Uganda Tax and Investment incentives info plus Important African Tax News
As a business traveler planning an Investment in Africa, you will need to know your Uganda Tax obligations, as these Tax costs will directly affect your bottom line.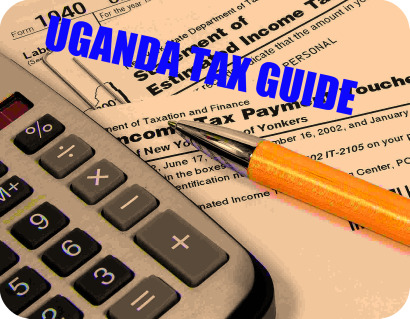 You also realize that in the current Global Economic crisis has caused governments to focus on governance and regulation of private companies.
This means that tax compliance has become more important to African governments than it was in the previous decade.
Your tax compliance failure therefore represents not only a financial risk, with financial penalties and a possible increase in the tax charge , but also a serious business risk, as it can damage your company's reputation with the authorities and the public.
Tip
Your business should be able to manage multi-territory compliance requirements and keep abreast of the changes occuring in local legislation that affect these tax requirements.
On this page we provide you with relevant information regarding the Uganda Tax System;
The Ugandan tax system
The Uganda Tax System can be summarised within Five (5) major Elements.
Corporate and personal income tax,
Value added tax (VAT) on goods and services,
Customs and excise duties,
And stamp duty.
There are also a number of statutory levies and social security payments.
Taxes are collected by self-assessment and by withholding tax on payments to residents and non-residents. As an Employer you are obliged to withhold and account for income tax on your employee remuneration and benefits (the PAYE system).
You will be charged with penalties and interest for non-compliance and late payment of taxes in Uganda
The Uganda Revenue Authority is the central body mandated to assess , collect specified tax revenue, administer and enforce laws relating to such revenue. This statutory body conducts regular audits and investigations of taxpayers.
Uganda Government Investment Incentives
It is common knowledge that tax is a cost to business and one of the main considerations in making investment decisions. In designing tax policies therefore, the government of Uganda has to pay attention to the levels of marginal tax rates charged to business and other income.
Our government offers a fair incentives package that provides generous capital recovery terms, especially if your project will entail significant investment in plant and machinery and you're likely to yield profits over the longer term.
The rights and incentives package includes:
Zero rate of tax on imports of plant machinery and equipment.
7% Import duty on specialized tourist vehicles.
VAT Deferral facility for plant, machinery and specialized tourist vehicles
Guaranteed repatriation of profits and dividends.
Guarantee against non-commercial risks is through the multi-lateral investment guarantee agency (MIGA) of the World Bank.
Up to 100% foreign ownership of investments allowed,
Capital allowances of 50% on plant and machinery for projects located in Kampala, Entebbe, Namanve, Jinja and Njeru. Outside these areas the deductible allowance is 75%.
Start up costs allowance spread over the first 4 years at 25% per annum.
100% allowance on scientific research expenditure and training expenditure also deductible once from the company's income.
There is deductible annual allowance on depreciable assets, which are specified in 4 classes (sixth schedule) under declining balance method.
Class I: Computers and data handling equipment 40%
Class 2: Plant and machinery, vehicles 30%
Class 3: Furniture, fixture 20%
Class 4: Industrial buildings, hotels and hospitals 5%.
A nominal corporate tax of 30%, which is among the lowest in Africa and the world, and
Duty draw back or refund for exporters is available.
How to determine whether you will need a Uganda tax consultant
Before you hire a Uganda Tax Consulting firm , you need to ask yourself the following questions.
Do I want to know and take advantage of the available unilateral and double taxation relief and incentives in Uganda?
Do I intend to acquire or dispose off my company (shares or assets)? and Do I want to know the most tax efficient way of doing it?
Do I want to invest in Uganda so as to maximize the benefit of Uganda tax incentives and minimize tax costs?
Am I considering balance sheet restructuring with a view to improving shareholders' wealth? and Do I need this done efficiently from a tax point of view?
Do I want to know the impact of withholding taxes, VAT and Excise duties on third party and inter-company transactions in country and across borders?
Do I intend to deploy staff into Uganda and want to know how best to manage the tax cost on the company and the expatriate?
If your answer is YES to any or all the above questions, then you should consider hiring a Uganda Tax Consultant.
What to look out for in your prospective Uganda Tax Consultant
Whether they can assist you in the preparation and filing of income tax returns and advise you on the payment of provisional and final taxes
Whether they can conduct tax health checks to provide you assurance on compliance with income tax, withholding tax, PAYE, social security, and VAT payments
Whether they can advise and assist you with tax repayments, negotiate on your behalf with the Uganda Revenue Authority, and apply for waivers of penalties and interest, raise objections to assessments,and provide you the relevant support in case of appeals to the Tax Tribunal.
A good Uganda Tax Consulting Firm should be able to demonstrate a proven track record in those three (3) key areas, especially within Uganda.


Or Use the Contact Address:
africaug.com

PLOT 30A, BOMBO ROAD
NSEGUMIRE PLAZA
KAMPALA, UGANDA

Phone: +256780481008



Tax News & Answers to What Other Visitors Have Asked About Uganda Taxes.
Click below to see the Tax questions asked by other visitors and the answers they have got ....!

---