UGANDA ICT GUIDE
Uganda Internet, Telecom News Updates &
ICT Industry Business Opportunities
The Uganda ICT guide is your Business travel planning tool on how to connect your personal gadgets onto the Uganda Internet network and also for helping you identify profitable business opportunities in the ICT industry.
I once got the opportunity to attend a residential training workshop in one of the Kampala hotels, which was aimed at preparing us to implement a national private sector investment project.

Upon my arrival at this hotel reception, I ran in to a confrontation between a Business traveler and a receptionist.

The Business traveler who was a gentleman and had traveled with his family, wanted to access the internet on his laptop. But to his disappointment, having already paid for a couple of rooms for him and his family, he again had to pay a separate fee for accessing the wireless internet for the hotel.

This aroused my compassion for this business traveler and many other tourists who face similarinconveniences with connectivity when travelling to Uganda and literally have no alternatives but to spend extra hard earned dollars.

It is this story that inspired me to come up with this Africa Uganda ICT guide so that you can plan in advance how you will plug into the Uganda ICT network right from your hotel booking

.
So, What will accomplish in this guide? You will:
Plan how to power your electronic gadgets
Plan how you will access Internet in Uganda
Decide whether you will need roaming and Choose a Mobile Phone
Choose an appropriate Uganda Mobile Telecom Operator for your Business
Understand the Uganda's ICT Industry
Find Investment Opportunities in Business Process Outsourcing
Find Investment Opportunities in ICT Human Resource Outsourcing
Find Business Opportunities in ICT Training Solutions
Find Business Opportunities Enterprise Solutions
Find Business Opportunities ICT in Education sector
Find Business Opportunities ICT in the Health sector
Ask the Africa Uganda ICT guide and find Telecom industry news Updates
Plan to power your ICT electronic gadgets
As a business traveler you're really interested in understanding how you will be able keep your Mobile Phone, IPhone , IPad, Notebook and Digital Camera powered during your business trip to Africa, which many still presume to be a "dark continent".
Having compiled your mobile gadgets list for your Business trip, you need to quickly check the powering options for your gadgets and compare them with the Ugandan British standardized plug and socket system for compatibility.
Common issues arise from the output volage of 240V discharged in the home socket system in which case you would need to acquire a step down transformer for your gadgets if they only accept a lower voltage; US gadgets would normaly need to step down the voltage to 120V. Some gadgets however may accept power from the full range of 110-250V. Therefore, be sure to check each of your electronic devices for voltage compatibility.
Secondly you should examine your power plug for compatibility with the British Standand Plug and Socket System Socket a.k.a BS 1363 socket. This is a large plug that has three rectangular pins forming a triangle; also called the 13 amp Plug.
If you're coming from a part of the world that doesn't have this plugging standard, be sure to purchase a compatible adapter for your electronic gadgets before you travel to Africa , these adapters are also available locally. Alternatively, you can make arragements to replace your plug to a BS 1363 plug while in Uganda.
For example a Google Business Executive coming from the US with a NEMA 5-15 power plug could purchase a universal adapter in order to plug into the Uganda BS 1363 plug .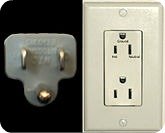 The NEMA 5-15 plug has two flat parallel blades like NEMA 1-15, but also adds a grounding blade.
It is rated for 15 amps at 125 volts. The ground pin is longer than the live and neutral blades, so the device is grounded before the power is connected. Both current-carrying blades on grounding plugs are narrow, since the ground pin enforces polarity. NEMA 1-15 plugs are also compatible with NEMA 5-15 sockets.
The 5-15 socket is standard in Canada, the United States, and Mexico. It is also used in Central America, the Caribbean, northern South America (Colombia, Ecuador, Venezuela and, as a legacy, part of Brazil), Japan, Taiwan and Saudi Arabia.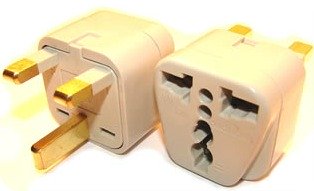 Ask the Africa Uganda ICT guide if you have any questions about powering your electronic gadgets in Uganda.
Plan how you will access the Internet in Uganda
During your business trip, you will definately need your internet fully connected so that you can communicate to partners at home, send emails to your employees, update your blog, tweet, check out your facebook updates, make online banking transactions or recieve updates from your business at home.
You will find out that the Internet in Uganda might be generally slower and a little more expensive when compared with your home networks, especially during the peak hours of midday and 5PM.
This is because the backbone Internet Service Providers ISP in Uganda currently use satelite technology.
The government of Uganda through the ministry of ICT implementing the National Data Transmission Backbone Infrastructure (NDTBI) project for high speed intenet based communication.
The National Data Transmission Backbone Infrastructure (NDTBI) project involved the laying of the fiber optic cable and the installation of the related equipment.
It encompasses the network infrastructure terminals, software applications, human resources, public and private communication systems as well as values and life styles related to the growth of the information society in Uganda.
The fibre optic cable will link Uganda to the submarine cables on the East African coast providing access to the rest of the world through Kenya.
To access internet while in Uganda will have several options:
Using an Internet Cafe in Uganda: If you do not want to plug directly into the Uganda Internet network for security reasons you could access internet from the numerous internet cafes in hotel business centers and in the townships around the country.
Using Wi-Fi Hot spots in Uganda: In your hotel, Bank , Airport, Office you could access the intenet directly onto your phone or laptop free of additional charge or paid up. Ask your hotel in advance whether they have free wireless internet connectivity or you will need to pay some extra charges. Also when you walk into your business partner's office and there is restricted wireless intenet access, take time to ask your host for the security key and settings.
Using 3G Mobile Internet in Uganda: Most of the Telecom companies in Uganda have invested in 3G internet technology which you can purchase in different packages and use at your own convinence in areas of the companies network coverage. Here you will need a purchase a dongle a.k.a Mobile Modem and connect to your notebook or use your mobile phone directly.
Using Local Area Network Cables in Uganda: You could find this in your hotel room, in the office of your business partner or in the public Cyber Cafe. These normally offer more stable internet access than the wireless but they are not wide spread.
Ask the Africa Uganda ICT guide if you have any questions about access internet in Uganda.
Decide whether you will need roaming and Choose a Mobile Phone in Uganda
As a business traveler, you always desire to keep abreast with the on goings of your businesses back home on the Go!
In this case, you have to decide whether you will use Roaming on your Mobile Phone or you will subscribe to one of the existing mobile networks in Uganda.
Roaming is a wireless telecommunication technology that can enable you communicate in both worlds almost instantly without having to change your data chip a.k.a Sim Card.
Roaming is the ability of the cellular phone to automatically make and receive voice calls, send and receive data or access other services including home data services when traveling outside the geographical coverage area of the home network by means of using a visited network.
Deciding whether you will roam with your cellullar carrier from home will depend on:
Cost of the roaming services: Ask you home Mobile service provider for the call rates , and data service charges and decide if they pocket friendly to you before you activate the roaming service.
Length of stay in Uganda: If you plan to stay in Uganda for a long period, you might decide against roaming especially in view of the service cost. However you could find roaming, very convinent when are making short business trips to a wide geographical coverage.
The availability of the Service on your home Carrier: Some Telecom companies do not offer this service, so be sure to ask your home telecom service provider to let you know whether the roaming service is available particulary to the geographical destination to which you're traveling.
Your Mobile Phone: If you decied against roaming, you will need to buy a new sim card or data chip for your mobile phone from one of the existing local Mobile Telecom Operators.
Verify with your mobile phone manufacture or service point whether you phone will be compatible to networks in Africa Uganda; some mobile handsets are locked onto specific networks.
In case your Mobile handset is one of the locked types, be ready to purchase a new mobile phone from a variety of brands we have in Uganda including low cost and expensive ones. Common Hand set brands include:
Apple's IPhone
Android Enabled Devices
Nokia Phones
Samsung Phones
Spice Phones
Alcatel Phones
Siemens Phones
When choosing a handset, be careful not to purchase a counterfiet phone by purchasing your phone from an authorized distributor or retailer in Uganda.
Ask the Africa Uganda ICT guide if you have any questions about Roaming and Choosing a Mobile Phone in Uganda.
Choosing a Telecom Company for your Business in Uganda
As a business traveller coming to Uganda, you have a range of mobile telephone companies with competitive rates and products to choose from.
The introduction of mobile telephony has revolutionised Uganda's telecommunications sector. Since Celtel (later Zain, now Bharti's Airtel Uganda) launched the first network in 1995, followed by MTN in 1998, Uganda Telecom in 2001, Warid Telecom in 2008, and HiTS Telecom, in which France Telecom's mobile unit Orange bought a majority stake in 2009, the telecommunication industry is immensely competitive and its growing at a supersonic speed.
Uganda telecom: Uganda telecom being the pioneer of the telecommunication business in the country, with basic services in the past limited around fixed telephony and telex, they have now grown into Uganda's leading and only total communications services provider. In 2001, UTL introduced the mobile phone dimension on to their previous services. Today, Uganda Telecom offers a diversified range of communication services ranging from fixed line, 2G and 3G mobile, Internet,M-Sente and business solutions, connecting Uganda to all parts of the world.
Airtel Uganda: Airtel was launched in Uganda in 1995 as Celtel Uganda later became Zain Uganda and is Uganda's most innovative mobile phone operator, which has introduced many "firsts" in the telecommunication sector such as:
Pre-paid plans
Post-paid plans
International roaming
Dedicated customer care
One rate to all networks
Fax and Data
Call forwarding
Per second billing
Freedom. Forever.
Mobile Top up
Airtel Money
Airtel Uganda is a great business success story in Uganda. Their customer base has grown tremendously and their coverage.
MTN Uganda: MTN Uganda is a subsidiary of the MTN Group. With there headquarters in South Africa, this multinational communications and network access company, has dominated the Ugandan market since inception.
MTN is passionate about people of Uganda and they focus on providing the best possible service to their customers. With MTN, you can stay on top of it all. SMS, email, surf and talk away with their connectivity solutions on Mobile, Fixed Line or Internet, MTN Mobile Money; all designed to be customized to your specific needs.
Get connected to the yello family as it is code named.
WARID Telecom Uganda Limited: In November 2006 WARID Telecom Uganda Limited was awarded its public infrastructure provider and public service provider licenses. In only 15 months they had completed the installation of hundreds of base stations, commercially launched and introduced a number of services to the Ugandan market on our prepaid network to name but a few of our achievements in this short space of time.
Their licenses incorporate mobile, fixed, internet, email and international communication services all of which are products and services WARID rolled out during 2008.
Warid will provide value for money innovative and customer relevant telecommunication services to achieve a new and modern corporate identity that is congruent with the dynamic changes taking place within the telecom industry. Our drive is to become the preferred choice as a universal communications provider of mobile, fixed line, internet, Warid Pesa, and business communications solutions within one year of operations.
Orange Uganda: Orange is the key brand of France Telecom, one of the world's leading telecommunications operators. With more than 131 million customers, the Orange brand covers internet, television and mobile services in the majority of countries where the Group operates. At the end of 2009, France Telecom had sales of 44.8 billion euros (33.7 billion euros for the first nine months of 2010).
At 30 September 2010, the Group had a total customer base of 203 million customers in 32 countries. Orange launched its brand in Uganda 2009; Orange Uganda has positioned itself as a strong challenger on the market with a series of innovative and attractive offers.
Orange is the number one Internet services provider in the country with the largest 3G+ network. It also offers some of the best tariffs in the market for both data and voice with unique national flat rate per second or per minute on voice and SMS, an attractive range of international tariffs and is still the only operator to offer exclusive call-back service free.
Orange offers its customers the best quality of service according to the Uganda Communication Commission (UCC) report published on March 2011.
Ask the Africa Uganda ICT guide if you have any questions about a Choosing Telecom Operator in Uganda.
Understand the Dynamics of Uganda's ICT Industry
Uganda's Information and communication Technology sector is dynamic and vibrant. The sector has registered double digit growth over the last few years. Major investment expenditure was rolled out in the mobile broadband solutions and other internet related infrastructure.
Telecommunication in Uganda includes all forms of information transmission, namely data (text and binary), voice and video signals over public telephone or data networks, satellites or radio links, dedicated lines, fiber optics, coaxial.
Sector dynamism is a result of Uganda's good ICT legal and regulatory framework, a stable macroeconomic environment and economic reforms pursued since the early 1990s. The telecommunications sub-sector, formerly dominated by a single national operator, has been progressively liberalised over the last 10 years.
Because of its cross- cutting nature, the ICT sector plays a very big role in employment, job creation and quality/efficiency in other services delivery.
For decades, the ICT sector in Uganda has been revolving around the Telecommunications, Postal and Broadcasting services. This has been mainly voice, very limited data handling and mail deliveries. The 1996 policy framework that liberalized telecommunication sub-sector resulted into radical changes that have given birth to an ICT service sector.
The sector has been growing at a phenomenal rate over the last decade, especially in the areas of mobile devices, computer applications, information processing, storage and dissemination (Broadcasting and Internet Points of Presence at district levels) as well as m-finance, e-finance, global connectivity and online trade.
The posts and telecommunications services activities, grew by 30.3 percent in Financial Year 2009/10 and it accounted for 3.3 per cent of GDP. The growth changes have had a profound impact on the whole Ugandan economy, making the ICT sector an important part of the economy.
Ask the Africa Uganda ICT guide if you have any questions about finding Business Opportunities in the Uganda ICT Industry.
Investment Opportunities in Uganda Business Process Outsourcing - BPO
The growing corporate and business sector in Uganda desperately needs major investors in the Business Process Outsourcing.
Business Process Outsourcing involves contracting of operations and responsibilities of specific business functions to a third party service provider.
Its one of the fastest growing segment in the IT enabled services.
Many companies here in Uganda would like to take advantage of the BPO industry by attracting service providers from all over the world.
BPO helps companies cut costs and improve efficiency by outsourcing services to distant skilled workforce.
Ask the Africa Uganda ICT guide if you have any questions about finding Business Opportunities in the Uganda ICT Industry.
Investment Opportunities in ICT Uganda Human Resource Outsourcing
Uganda as an emerging economy desires to attract companies with the right tools and equipments that will put together her skilled workforce who will eventually help transform the economy.
Such services include customer service, web development, administrative support, writing and translation, sales and marketing, design and multimedia, business services, software development, networking and information systems.
Ask the Africa Uganda ICT guide if you have any questions about finding Business Opportunities in the Uganda ICT Industry.
Business Opportunities in ICT Uganda Training Solutions
This has to do with the study of design, development, implementation and management of computer based information and communication systems. With the increasing inceptive new technologies that have transformed the way we do business, especially in areas of software applications, computer hardware, designing and management of complex networks, information data bases.
Uganda needs ICT professionals who will create ICT training courses which can be customized according to the requirements of the client.
This is very important because it makes the best use of the available training tools focusing to the job as efficiently as possible.
Ask the Africa Uganda ICT guide if you have any questions about finding Business Opportunities in the Uganda ICT Industry.
Business Opportunities in Uganda Enterprise Solutions
This is another area that is worth investing in. It has to do with helping organizations achieve high performance by effectively leveraging software products and technologies.
Enterprise solution strives to deliver a complete integrated business view to clients thereby facilitating the management of information necessary for efficient performance and effective decision making.
Ask the Africa Uganda ICT guide if you have any questions about finding Business Opportunities in the Uganda ICT Industry.
Uganda Business Opportunities ICT in Education sector
The importance of information underscores the importance of adopting ICT in the education sector.
The most important transformation in education and learning requires a shift from traditional methods where one confronts many learners with a text book to a system where many students learn through use of various media.
These include computers, the internet, videos, radios, news papers, entertainment.
Modern technologies create the opportunity for the best minds to exchange information across the world. This is done through video conferencing and multimedia applications.
Ask the Africa Uganda ICT guide if you have any questions about finding Business Opportunities in the Uganda ICT Industry.
Uganda Business Opportunities ICT in the Health sector
Investment in Uganda's ICT health sector is still very poor. However, Uganda can greatly benefit from using ICT to improve the health care.
ICT provides the opportunity for individuals; medical professionals deliver first line support and promote preventive medical programs.
Through ICT applications, there is an enormous opportunity for health care providers to contribute to better quality health services in Uganda at the lowest cost.
Some of these medical ICT applications include;
Telemedicine: this encompasses the whole set of practices aimed at increasing the well being and involves diverse technologies and applications. Advanced Telemedicine applications may require a sophisticated and expensive telecommunication infrastructure. Some solutions require only the basic infrastructure to provide basic health care services.
Telemedicine applications can be categorized as requiring either low medium or high band width transmissions; that is transmission of data, audio or images.
Telemedicine services also include teleconsultation and Health Information System.
Telehealth: is the provision of a service to those who are at a distance from the service provide, but who is not necessarily ill or wounded, but who are already well and want to stay that way by following health practices of diet, nutrition, lifestyle, exercise etc and by taking steps to avoid illness and disease in regard to sanitation.
Data transmission: this can be in form of relatively static information such as a patient's medical record or dynamic such as vital signs data ie heart rate and blood pressure.
Telemetry: this provides a means of monitoring human and physiological functions from a remote site.
Ask the Africa Uganda ICT guide if you have any questions about finding Business Opportunities in the Uganda ICT Industry.
Related Topics
Convergence broadband and internet markets
Multipurpose community telecenters