THE MOUNTAIN GORILLAS GUIDE
Tracking Mountain Gorillas can be one of the most captivating activities you will ever do on your African tourism Safari.
It involves trekking the tropical wilderness in search of these great apes, and you're almost certain that you will capture those close range shots of these surviving gorillas in Uganda.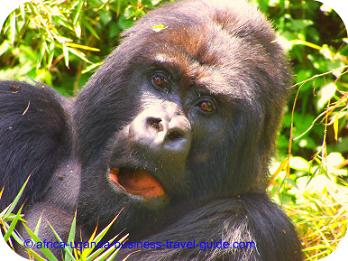 Whereas the exercise is quite interesting, you still need to ensure that you're physically fit before you dare any Uganda Gorilla Safaris.
We have created this Gorilla guide to help you plan an exciting Gorilla Safari in Africa.
You will also find useful information that can help you start a thriving Gorilla based Tourism Business idea in Africa.
The 10 Facts about Mountain Gorillas
The name Gorilla is derived from a Greek word Gorillai meaning hairy women.
Mountain Gorillas are only found in three countries in the world- Uganda, Rwanda and The Democratic Republic of Congo (DRC).
Mountain Gorillas are critically endangered species. There are only about 720 mountain gorillas left in the World.
Over half the world's mountain gorilla population is found in Bwindi Impenetrable Forest in Uganda.
Gorillas are the largest living primates.
Like humans, mountain gorillas have individual finger prints.
The DNA of gorillas is 98%-99% identical to that of humans, and they are the next closest living relatives to humans after the two chimpanzee species.
Man is gorilla's only enemy.
A gorilla family is categorised in this way:

Infant- 0 to 3 years
Juvenile- 3 to 5 years
Sub-adult- 5 to 9 years
Adult female- 9+ years depending on when she starts her menses.
Blackback- 9 to 12 years
Silverback- 12+ years, depending on when the male develops a spray of silver on his back marking him as mature enough to head a family.

Gorilla Tourism in Uganda brings money that is channelled back into mountain gorilla conservation and also benefits the communities that live near the mountain gorilla homing ranges. This goes a long way in preventing human-wildlife conflict.
Where to find Mountain Gorillas in Uganda
Uganda is the home to more than 380 endangered species of mountain gorillas.
The Gorillas are found in South Western part of the country in:
This year the United Nations declared it the year of the Gorilla! To increase awareness globally about the close cousins of mankind who have become endangered!
Therefore as the world marks 2009 the year of the Gorilla, Uganda promotes itself as a premium tourist destination with Bwindi Impenetrable National Park a world heritage site!
There are two main species of gorillas & four sub- species in Africa.
The two species are: The Western & Eastern Gorillas.
The Western Gorillas are found in Nigeria, Cameroon, Gabon & Congo
The Eastern Gorillas are found in Uganda, Rwanda & DR Congo.
Booking your Gorilla Safaris Permit
Currently there are five groups of Mountain Gorillas that have been habituated for tourists to view in Uganda.
The gorilla viewing permit will cost you about USD 500 (UGX 1 million) per tourist.
You can book your Mountain Gorilla permit through your Tour Operator who is registered with the Uganda Tour Operators Association.
Your tour operator will book the permit at the Uganda Wild Life Authority (UWA)Headquarters, located in Kampala, Uganda's Capital.
The Uganda Wildlife Authority (UWA) allows long term bookings of as long as Two years for a 30% deposit of the gorilla permit fee, you then pay the balance 91 days before your Gorilla Tracking tour.
It is good to book your gorilla permit using a Uganda Tour operator because 80% of all the gorilla permits in each month are reserved for advance bookings forwarded by Uganda Tour Operators registered with the Association of Uganda Tour Operations (AUTO). Foreign tour operators usually book through the registered local tour operators.
A tour operator registered with the Association of Uganda Tour Operators (AUTO) can only book up to 20 permits for that particular month on the day the booking office opens, which is the first working day (Monday to Friday) of the month.
Mountain Gorilla Tracking sites
You can find habituated Uganda Gorillas in four Sites within Bwindi Impenetrable National Park, including: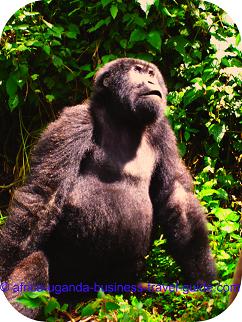 Mubare,
Habinja,
Rushegura &
Nkuringo
You can also get a good view of these habituated Uganda Gorillas at Nyakagezi , which is the only Gorilla site within Mgahinga National Park.
A new group will soon be opened up to tourists in Rushaga- Kisoro after the habituation process.
Habituation is the process where the Gorillas are taught to be tolerant of people & their presence.
This is very important as Wild Gorillas can be violent even to Humans!
Usually eight people are permitted per group per day to Track these great Uganda Gorillas and a total of twenty four(24) people is taken in Bwindi, while eight (8) people are allowed for Mgahinga.
Gorilla tracking time is currently limited from 8:30 a.m. to 7:00 p.m. and you will be expected back at the campground by 7:00 p.m.
A checklist of what to take?
Solid walking shoes or boots
Rain gear and hat
Sunscreen
Drinks and Snacks
Binoculars
Camera
You can also get a porter at a reasonable cost.
Uganda Mountain Gorilla Videos
The future of your Gorilla Based Tourism Business idea.
If you intend to base your Uganda tourism business on the presence of the Mountain Gorillas, you probably won't go wrong.
The demand for Gorilla tourism is on the rise! & gorilla tourism plays a strong catalytic role to the growth of Uganda's tourism industry.
In 2008 Uganda earned Ushs 488 Billion from gorilla tourism alone. This accounts for the 50.4% of revenue generated for the Wild life Authority.
Last year 842000 tourists visited the country mostly from Europe, USA & Asia and majority of them went for the Gorilla's!
So if you are in the Pearl of Africa for business or pleasure take the opportunity to view these amazing beautiful endangered species who are close cousins of ours!
Click here for more information about starting a Tour and Travel business in Uganda

Click here for more Information about Mountain Gorillas Safari Accommodation


Mountain Gorilla News
Because our country is the habitat to over half the worlds gorilla population, we're naturally able to bring you much of the latest Mountain Gorilla news updates, the much of which we're part!
Uganda Wildlife Authority in Gorilla Campaign Launch
Uganda Wildlife Authority under the guidance of the Ministry of Tourism, Trade and Industry will next week launch an internet-based tourism campaign that will enhance marketing of Uganda as a premium tourism destination to local, regional and international markets.
The campaign, which will be anchored on mountain gorillas as Uganda's flagship tourism attraction, is expected to raise about 100m US$ through the internet and other forms of sponsorships for wildlife conservation. The funds will help boost implementation of the various conservation programs of the Uganda Wildlife Authority. Read More...
Date: 18TH SEPT 2009
Launch of the Nshongi gorilla family
On 24th September 2009, the celebrities will engage in the first of three major events - the grand launch of the Nshongi gorilla family at Rubugiri in Kisoro District. Read More...
National Gorilla celebrations at Kololo Airstrip
On 26th September 2009 national celebrations will be held at Kololo Airstrip where H.E The President of Uganda will be Chief Guest. Read More...
Gorilla Gala at Serena Kampala Hotel
The climax of the events preceding launching of the Friend a Gorilla campaign will be the first ever Gorilla Gala at Serena Kampala Hotel, which will be attended by prominent personalities and socialites including members of the diplomatic community, corporate organizations, local and international organizations, multinationals, prominent business leaders and government agencies. Read More...
The Friend a Gorilla Campaign
The Friend a Gorilla Campaign will be launched during the Gorilla Gala, and each of the Hollywood celebrities will participate in the launch by friending a gorilla on the internet during the event. Read More...
Uganda launches save gorilla campaign
Tourism, trade and industry minister Kahinda Otafiire on Thursday launched the tracking of the Nshongi Gorilla group in Bwindi Impenetrable National Park. Read More...
Tweeting Ugandan gorillas make friends online
BWINDI IMPENETRABLE FOREST, Uganda (Reuters) - Lurking deep in the mist-glazed forests of east Africa, Uganda's mountain gorillas are preparing to 'tweet' for their survival. Read More...
Friend-a-Gorilla campaign launched
With a click of a mouse on a computer, millions of internet users around the world are now able to track the endangered mountain gorillas in the Bwindi Impenetrable National Park in south-western Uganda. Read More...
United Nations honor gorillas, Uganda celebrates them
The UN has declared 2009 as the global "Year of the Gorilla," and even appointed a special UN Ambassador towards this end, and celebrations towards the recognition of the need to actively preserve and protect the animals and their habitat are now coming to a peak in Uganda last week. Read More...
When I first went to Bwindi as a veterinary student in 1994, I thought I had reached the ends of the Earth.
On my first morning in Bwindi I got up to the most stunning scenery of mist rising over the forest, steep slopes, and narrow valleys, which truly looked impenetrable. Read More...
Click here for more information about Uganda Tourism Business Opportunities.
Click here for more information about doing business in Uganda.
Home