If you're a birdwatching enthusiast, then you need to plan a birding tour to Uganda;
You will find Uganda an indispensible birding destination on the African continent.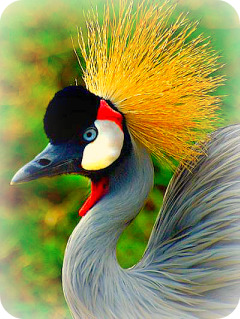 The country is not only endowed with unsually high numbers of bird species, over 1000, but you will also find it easier to access several bird-rich habitats while in Uganda than you would in any other African country.
Therefore, birds can be watched anywhere in Uganda but some areas present with unique opportunities, these are Lake Victoria Basin, the Albertine Rift Valley and the Kyoga Basin.
In this Birding Safari guide we share with you some useful infomation about Uganda birds that will help you plan a truely memorable Birdwatching Safari to Africa.
You will find
A list of common Uganda birds
Where to find them and
Some interesting features about each bird
Where to find the Birds of Uganda?
The most alluring tourist site in terms of localized Bird species is Semuliki Wildlife Reserve, closely rivaled by Budongo Forest, Kibale National Park and Bwind Impenetrable Forest National Park.
However, in practical terms, you will probably find Kibale Forest as the single best birding destination for viewing forest birds in Uganda.
Kibale derivies its birding fame from the proficiency of its Bird guides who will walk you through the Forest and the nearby Magombe Swamp during your Birdwatching tour.
Tip
Unfortunately, most forest birds are very secretive, and you will find it difficult to get even a glimpse of them in the dense undergrowth in the forests, let alone a clear enough look to identify the birds.
In fact, you're likely to identify more bird species in 15 minutes at Backpackers' Hostel in Kampala than you would in an afternoon's forest walk at Semuliki.
Therefore, if you're a first time visitor to Africa, you're better off concentrating on locations other than forests to be able to see a range of Uganda Birds.
Enjoy Planning with Our Interactive Map of Uganda Birding Sites
Click on any Uganda Birding Site on the side bar menu on your right and we shall fly you to the exact spot where you will find that Birdwatching Site on the Map of Uganda.
Use the Control Buttons on the Left of your map to Zoom in to your Birding Site and find more details.
You can also click the Hybrid button at the Top right hand conner of your map to view even more interesting details about the area surrounding your Uganda Birding Site.
You will find this Uganda Birdwathing Map indispensible when planning how you will travel to the different birding sites in Uganda during you birdwatching tour.
Interesting birdwatching spots in Uganda include:
Entebbe Botanical Gardens: Best for viewing Water and Forest Birds.
Lake Mburo National Park: Best for Water and acacia associated birds.
Queen Elizabeth National Park: Best for viewing a wide variety of Bird Habitats and has over 600 bird species recorded.
Murchison Falls National Park: Best for viewing a wide variety of Bird Habitats and is the best place in East Africa to see the papyrus associated shoebill.
Kidepo Valley National Park: Best for viewing Northern semi-desert specials and has over 50 raptors recorded.
Lutembe bay and other spots around the Lake Victoria area are best for viewing migratory birds
Nsuki forest
Ziika forest
Mpanga forest
Kajjansi fish ponds
Mabamba wetland
Nabbajuzi wetland in Masaka
Musambwa island
Along the great River Nile
Lake Kyoga area
Lake Bisina, lake opeta and lake Doho
Nabugabo recreation centre
Common Birds in Uganda from A to Z
There you go...
A B C D E F G H I J K L M N O P Q R S T U V W X Y Z
Black-winged red bishop
Blue shouldered robin-chat
Blue throated roller
Broad billed roller
Brown throated wattle eye
Chestnut-bellied wattle-eye
Chestnut-capped flycatcher
Chocolate backed kingfisher
Coucals
Denham's bustard
Double throated barbet
Eastern grey plantain-eater
Flamingos
Forest/white headed wood-hoopoe
Fork tailed drongo
Giant kingfisher
Goliath heron
Great blue turaco
Green breasted pitta
Green headed sunbird
Grey capped warbler
Grey crowned crane
Grey throated barbet
Grey-headed negro-finch
Hairy breasted barbet
Hamerkop
Hoopoe
Lagden's bush-shrike
Lappet faced vulture
Lilac breasted roller
Long tailed nightjar
Long-crested eagle
Luhder's bush –shrike
Northern carmine bee-eater
Red winged grey warbler
Red-tailed bristle
Return from The Uganda Bird Guides to The Uganda Tourism Business Guide.

Home