The Uganda Coffee Guide
Uganda Coffee is one of the most sought after coffee on the international market. This Coffee demand has kept Coffee as the leading commodity in the Uganda economy. Coffee alone contributes between 20 - 30% in terms of foreign exchange earnings to the Uganda Economy.
We have created this Coffee Guide to help you accomplish two major tasks:
Task #1: Is to help you find the top Coffee shops in Uganda where you can stop by and take your best Coffee flavour during your Business Trip to Africa.
and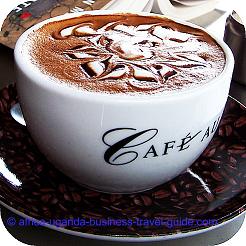 Task #2: Is to help you identify promising business Opportunities within the African Coffee Industry.
Types of Coffee in Uganda
Coffee in Uganda is produced in two (2) major types.
Robusta Coffee is grown in the low altitude areas of Central, Eastern, Western and South Eastern Uganda up to 1,200 meters above sea level while Arabica coffee is grown in the highland areas on the slopes of Mount Elgon in the East and Mt. Rwenzori and Mt. Muhabura in the South Western Region, between 1500-2,300 m above sea level.
Unlike Robusta whose native habitat is the Lake Victoria Crescent, Arabica coffee was introduced from Ethiopia to Uganda.
Arabica coffee is more competitive on the International market because of its superior quality.
Uganda Robusta Coffee too has intrinsic quality attributes which even attracts a premium on the international coffee market.
A new Arabica variety - Tuzza a.k.a Catimors has recently been introduced in Uganda and it also performs well in the low altitude areas of Uganda which had been previously zoned for Robusta coffee.
Top Coffee Shops & Roasting Facilities.
There are currently nine (9) coffee shops registered with Uganda Coffee Development Authority (UCDA) and the Coffee Roasters Association (UCRA). You will find most of the best Coffee Shops located within Kampala, Uganda's Capital City.
While on your business trip to Africa , stop by and take some of the finest coffee in the World from one of these Top Uganda Baristas.
Café Pap

Good African Coffee

Café Ballet

and Ban Café
The common types of coffee served in Uganda include:
Iced Coffee and Cappuccino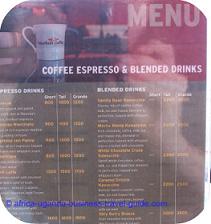 Iced Coffee

Iced Cappuccino

Iced latte

Iced Americano

Iced Mocha

Café Frappes

Cappuchino Freeze

Espresso Mocha freeze
A cup of Coffee in Uganda will cost you between UGX 3000 to 10,000 (USD 1.5-USD5). The coffee price usually fluctuates in accordance with the ambiance of the Coffee shop you attend.
Click here to find information about lucrative Uganda Coffee Investment Opportunities.
Click here to find Information about Uganda Tea and Other Beverages
Have an Update About Uganda Coffee?
Do you have a great story about Coffee in Africa? Share it!
Uganda Coffee News and Updates
Click below to find Africa Uganda Coffee Updates, trends, Prices and contributions from other visitors to this page...