Buy-Import-Export Premium Grade UGANDA VANILLA BEANS                           Buy-Import-Export Un-Refined Raw SHEA BUTTER 
How to grow Maize in Uganda
Are you planning to start a commercial maize growing project in Africa? 
...or you're just a farming enthusiast wishing to try out corn planting in your backyard and are now up at about on Google for tips on how to plant maize?
Well, the good news is; you don't have to start from scratch...!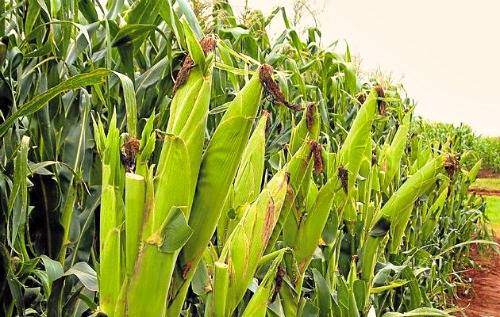 Maize Plantation Near Harvest
We have put up this online corn guide with some basics on growing maize in Uganda so that you can quickly get started with your new venture.
If you're a Maize consumer/bulk trader and searching online to buy some competitively priced African maize produce, seeds or corn farm inputs, you're still not lost...! Go straight to our guide contact form to make your Maize order.
Maize (zea mays L.), originally a New World crop, was introduced in Uganda in 1861 (Sprague, 1987) and by 1900 was already an established crop (Ministry of Agriculture 1988).
Maize production has improved in Uganda with the adoption of improved technologies by farmers. These technologies include improved seeds like hybrid and open pollinated varieties, timely planting, proper spacing and timely weeding and harvesting.
On average, 1,500,000 MT (UBOS,2007) is estimated as the annual Uganda maize production. Of this, about 90% is used for national human consumption, locally and regionally and 10% for animal feeds like Maize bran.
On this Uganda plant guide we share some useful info about growing maize in Uganda, including;
Why you should consider commercial Maize growing as your next Business Venture?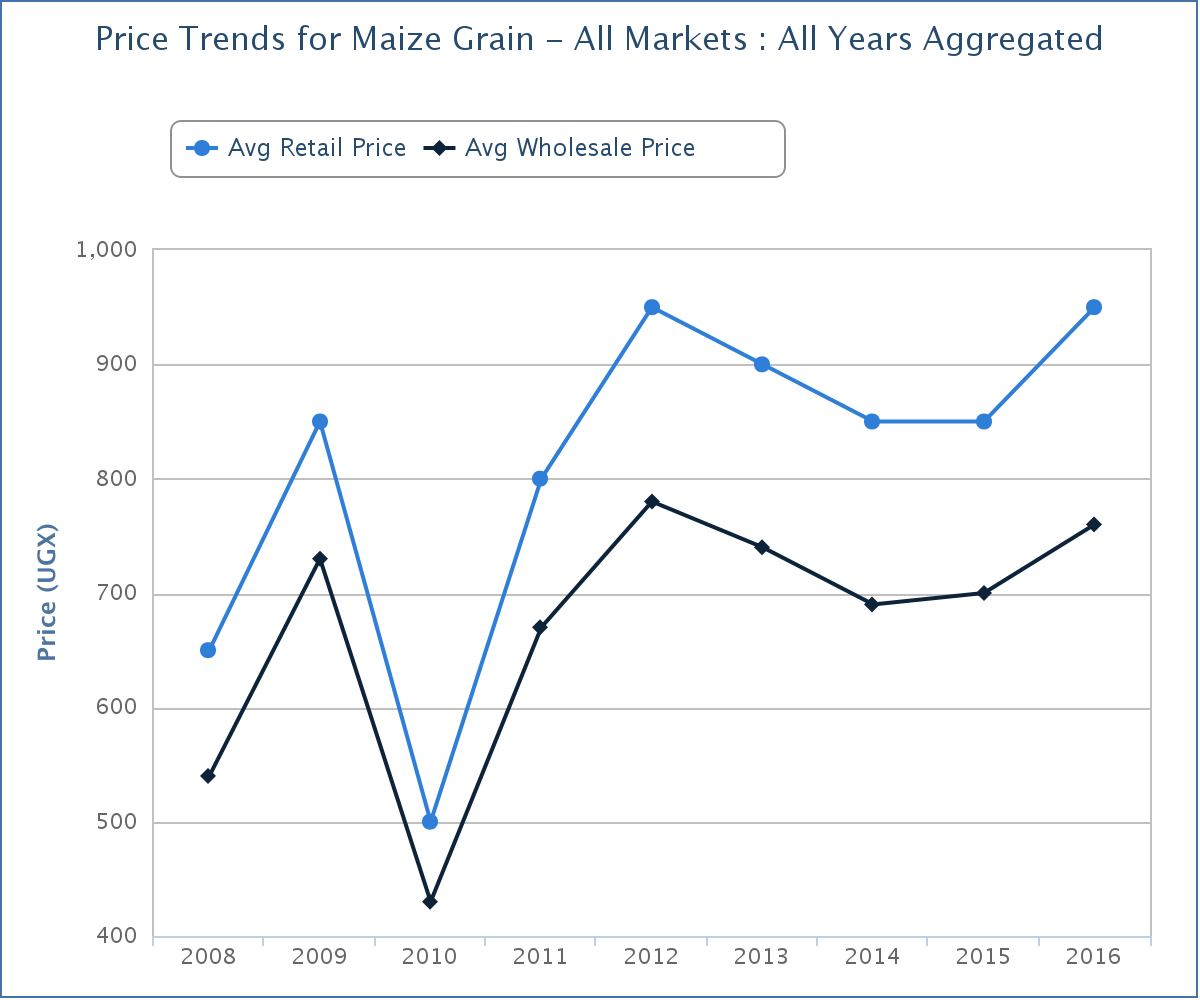 From 2008 to 2016 the Price of Maize/Corn Grains in Uganda has had a general Upward Trend; rising from Wholesale price UGX540 to UGX760 and from retail price UGX650 to UGX960
Maize is one of the major staple foods in Uganda. Its production has increased over the years as people change their consumption trends. It has evolved from a purely subsistence to a successful commercial crop. Maize in Uganda is sold mainly for food in schools, relief by World Food Programme (WFP) or export to neighboring countries such as Kenya, Rwanda and Burundi.
Maize is one of the most widely grown cereals in Uganda. This is so because of it is easy to bring up the crop. All you would probably need is simple medium or moderately fertile soils, seeds to sow, a hoe and some manual labor. If we spoke theoretically, almost every home in Africa could start up a corn field.
Climatically, maize can be produced in most parts of Uganda except in the most arid parts of Karamoja. However, efforts are underway to develop suitable varieties for the region.
The crop is however, is commonly produced in Kapchorwa, Iganga, Masindi, Mbale, Mubende, Kasese, Kamuli, Jinja And Kabarole districts.
Nutritionally, maize is very nutritious as a starchy food. It also has an appreciable level of protein especially Quality Protein Maize (QPM) which has higher levels of essential amino acids. Whole grain of l00gm contain l0gm of protein (poor in trytophan and rich in leucine) and 4gm fat, and provitles 360 calories; the germ (12% by weight of the whole grain) contains 22% of the total protein and 80% of the oil (Burgess 1962).
Varieties of maize you could grow in Uganda
Common varieties of Maize seed currently available in East Africa include; longe 1, longe 2H, longe 4, longe 5H, longe 2H.
Some ealier varieties of Corn in Uganda included White Star and Western Queen which were released in 1960 for the northern and western areas of Uganda respectively. White Star was being recommended for its early maturity (115 days) specifically for short rain areas (e.g.Northern Uganda).
Kawanda Composite A was released in 1971. and dominated the improved seed multiplication programme for a while. KWCA was specifically recommended for commercial production during the long rains in the maize growing areas. It is rather late maturing (133 days) and requires early planting.
A second Kawanda Composite (KWCB) was developed between 1972-1974, and was said to be ready for release to farmers by 1977. It was not, however, released due to lack of seed multiplication facilities.
How to prepare your land before planting maize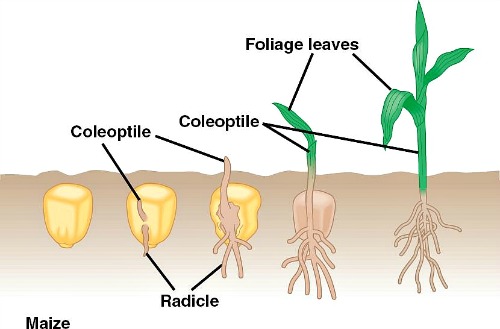 Maize grain Germinating
Maize requires a well prepared field. Soils must be deep, fertile and well drained.
Corn doesn't necessarily require a smooth seed bed. If you setting up your maize on a new field, its better you plough twice before you would sow the maize seeds, and the other field you plough once.
Where planting is to be done by the machine, a fine seed bed is required.
How to Plant Maize/Corn in Uganda
Best time to plant: You need to plant your maize at the onset of the rains either in March or in August to September. However, you could also plant your maize when it's still dry but during the time when the rains are expected soon. In this case though, you need to treat your seeds against soil pests before planting.
Depth of planting: make an estimate of about 5-7 cm deep, and you can make the holes deeper for dry planting and sandy soil.
Spacing: when spacing maize it may solely depend on the variety of the maize taken up and or if an intercropping pattern is used on the maize field. for example , longe1 is spaced by 75x30cm with a seed rate of 25kg/ha.longe 2H is given a spacing of 75x30m with a seed rate of 25kg/ha so does other varieties.
How to fertilize your Maize plantation
The key requirements are nitrogen, phosphorus, and potassium.
Nitrogen can be got from fertilizers like CAN, DAP, cornkali and sulphate of ammonia.
How to control weeds in your corn garden
Weeding maize is quite simple and you can do it manually with hand hoe.
We recommend that you weed you're maize plantation as early as possible; at least within the first 45 days.
Weeding depends on the environment, rainfall amount and the soil weed bank.
Broad spectrum herbicides' like roundup could also be used before ploughing the field during land preparation to control perennial weeds and to generally control weeds in young plants.
Quick tips for growing maize in Uganda
On a well prepared land open up holes of about 5-7cm for hand planting
Saw at least 3 seeds per hole. Sawing should be in rows
Then thinly cover with a layer of soil
Water when sawing is done earlier before onset of the rains
Ensure spacing as recommended earlier
Weed the field after 2-3 weeks after planting
Harvest your maize when the comb is well filled and dry for drying type or harvest it fresh
Your harvest should be timed around the 7th or 8th week after planting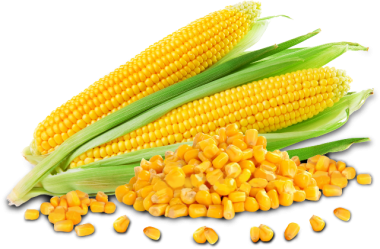 Maize Corn and Grains in Uganda
Or Use the Contact Address:
africaug.com 

PLOT 30A, BOMBO ROAD 
NSEGUMIRE PLAZA 
KAMPALA, UGANDA 
Or
 Call: +256780481008
Have a Question or Great Story About This Plant Guide?
Do you have a Question or Comment about this plant Guide? Then Share it!
Haven't yet found what you Want...?
If you haven't yet found what you were looking for or you need detailed information about the subject matter on this page

then...

feel free to ask our business travel consultants.