Buy-Import-Export Premium Grade UGANDA VANILLA BEANS                           Buy-Import-Export Un-Refined Raw SHEA BUTTER 
Kuroiler Poultry Guide
The Kuroiler breed of chicken is consistently changing the poultry industry in Africa both at subsistence and commercial level. This bird right from its introduction in Uganda seems to be steadily challenging traditional commercial and subsistence poultry farming methods by creating a new poultry farming niche combing both methods.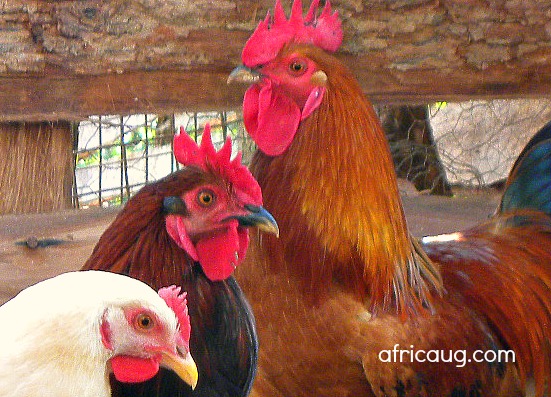 This industry game changing bird is clearly transforming typically subsistence poultry farmers to commercial farmers using the unmatched breed characteristics and creating a more sustainable method of commercial poultry farming in Africa for the legendary commercial poultry farmers.
Developed in India and having succeeded in Uganda, we're literally seeing the Kuroiler conquering other African markets like Kenya, Tanzania, South Africa and West Africa.
This bird breed's name seems to have been coined from the word BROILER , and then African Americanized to get the name KUROILER but we now see different variations of the same name depending on where someone is coming from including ; KROILER, CROILER , CUROILER...
… and you can fill in your own variation as well!!
Having dealt with a number of clients and being on the very front-line of introducing this unique Chicken/bird/poultry breed to other African Countries from motherland Uganda,….
We have created this Kroiler guide to help you appreciate the story of the Kuroiler Chicken and make a decision whether it is the right breed to introduce on your poultry farm.
For our dedicated kuroiler farmers we have also included tips and guidelines for current best practice, news updates and stories from successful kuroiler farmers.
You also have the opportunity to order any Kuroiler Poultry Product you need, from Fertilized Kuroiler eggs, One (1) Old Kroiler Chicks, (two) 2 Weeks old Kuroiler Chicks , one (1) old Kuroiler Chicks and Adult Kroiler Chicken.
Some of most important topics we cover in this African Poultry Guide include:




Early Days of the Kuroiler Chicken

Just like any other Chicken story, there is always a controversy of what came first, the Egg or the Chick…?

Well for our Kuroiler Chicken , the story seems to have begun on an Indian Farm with some philanthropic funds from Bill Gates.

Evolution of the Kuroiler Chicken Project Jagdev Sharma from Biodesign Institute at ASU on Vimeo.

Professor Jagdev Sharma a researcher at Arizona State University's Bio-design Institute, along with Collaborators from NAGRIC (Uganda Animal Genetic Research Center) and Kegg Farms (India) pioneered a new approach to poultry raising in Uganda to lift thousands of Ugandans from Cyclic poverty And towards a healthier and more sustainable condition by introducing the Kroiler/Kuroiler chicks.





Defining the Kroiler Chicken from its Bloodlines

The kroiler/kuroiler is a scavenger developed and derived by crossbreeding either colored broiler males with Rhode Island Red females, or White leghorn males crossed with female Rhode Island Reds.





Could the Kuroiler Chicken Breed be a Game Changer…?

Basically it has all the advantages of local chicken and yet performs almost as a good broiler and layer breed of chicken.





Local Chicken Traits

You have all the advantages of the African local Chicken. Like local birds they are resistant to disease, can be kept in Free range/semi free-range system, to scratch food for themselves.

You will be able to keep your Kuroiler chicks successfully in a semi-urban environment, and this is a pointer to their big potential.



Grows Much Fast

Your Kroiler chicks will be more resistant to diseases than the typical broiler or Layer breeds and you can easily treat any break through disease by mixing vitamins in feeds and water.





More Eggs

Your Kuroiler hens will produce more eggs than their local counter parts displaying the trait of their layer parents. Only difference is that they will not sit on the eggs as the local chicken.

While indigenous chickens typically lay just 30-40 eggs per year, your Kuroilers could easily produce five times that number or around 150-200.

At five months, your Croiler hens should start laying eggs continuously for two years. It is better business, African egg consumers have always preferred the local chicken eggs , thou small for their yellow yoke. Now you have a comparatively big egg, with yellow yoke being produce in plenty….!

You also have more nutrients in this yellow yoked egg and as a result your consumers will be to pay the price, thou slightly higher than the local egg.





Hatchability

While the Kuroiler Hen will not sit on her eggs as she's busy laying more eggs, her fertilized eggs typically bring good hatchability results when compared to the local chicken. You however need to take your eggs to an incubator for them to hatch.

But as the saying goes…, NEVER count your Chicks before they HATCH!

But 80% and above hatchability is good.





Heavy Weight

Your Kuroilers will grow to about double the body weight of their native counterparts, providing much more edible meat.

Hens mature between two and four months and weigh between 2 and 3 kilograms.

A mature Kroiler cock weighs between 4 to 5 kilograms.





Buying Kuroiler Products

Take this opportunity to order your Kuroiler poultry products directly from our dedicated Kuroiler farms. You can buy Fertilized Eggs, Kuroiler One (1) day Old Chicks, One Week old birds or One month old birds. You can also order adult chicken for eating at the comfort of your home or Mobile Gadget and it would be delivered to your door step.




AFRICA UGANDA POULTRY FARMING GUIDE

NSANGI MENGO BUSIRO PLOT 238
18KM MASAKA ROAD UGANDA
Or
Call: +256782330801,+256700196417
Related Pages
Ask the Poultry Farming Guide & Tell your Chicken Business Rearing Success Story
Do you have a question about Poultry Farming and Chicken Rearing in Uganda Africa?

....then ask the Guide.

You also have the opportunity to tell your Poultry Farming Business Success Story.
Poultry Farming News & Guides, Chicken rearing Tips and Industry Success Stories
Click below to see contributions from other visitors to this page...
Haven't yet found what you Want...?
If you haven't yet found what you were looking for or you need detailed information about the subject matter on this page

then...

feel free to ask our business travel consultants.