Buy-Import-Export Premium Grade UGANDA VANILLA BEANS                           Buy-Import-Export Un-Refined Raw SHEA BUTTER 
Queen Elizabeth National Park
Tour Safari Guide 
Are you planning a Classic Big game Uganda Tour for your next vacation to Africa or you're a businessman/Investor visiting Uganda and you intend to spend some days of your trip relaxing while watching some African Wildlife?
If this describes your business travel ambitions to Africa, then be sure to include Queen Elizabeth National Park on your Travel Itinerary.  
Wow, soo Beautiful...!
This Uganda Kob, is by far the commonest Antelope at
Queen Elizabeth National Park.
This animal is also the Chosen Symbol for Wildlife on the Uganda Court of Arms
Queen Elizabeth National Park is understandably Uganda's most popular tourist destination. Located in western Uganda in the southern part of the Albertine rift valley the 1978 Sq. park is home to diverse ecosystems.
At Queen Elizabeth National Park you will find:
The Sprawling Savannah ,
Shaddy humid forest ,
Sparkling lakes and
Fertile wetlands.
This kind of Vegetation makes Queen Elizabeth National Park an ideal habitat for classic big game.
The Crater Lakes of Queen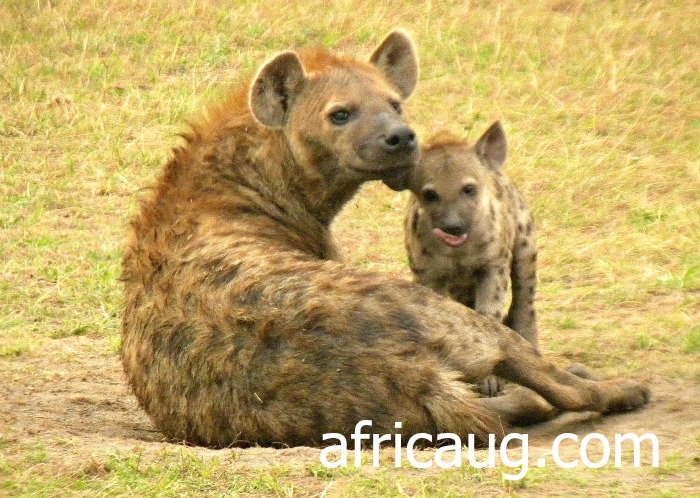 Mother Hyena and Baby at Queen Elizabeth National Park; Ishasa.
We saw these interesting Creatures at around 6pm as they got out of the Hyena's Den to start searching for food.
A Crater lake by definition is a body of water occupying a roughly circular, steep-sided volcanic crater or caldera.
Queen Elizabeth National Park has enormous craters, curved dramatically into rolling green hills.
One of the famous Crater Lake in this park, is the Katwe salt lake where the Katwe Kabatooro community has been conducting traditional salt mining since the 16th Century. The neighboring lake Munyanyange is a bird sanctuary and a migratory location for the lesser flamingo from August to November.
Contact us here to Book a Safari Tour to Queen Elizabeth National Park
Don't miss the Boat Ride on the Kanzinga Channel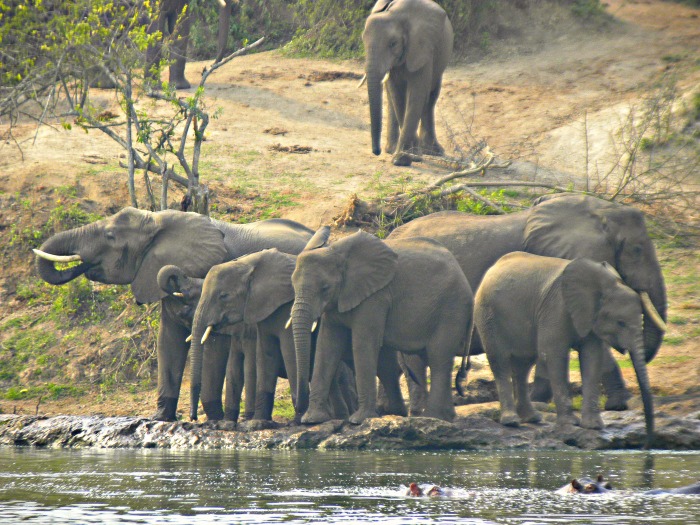 Half way our boat Ride on the Kanzinga Channel, at about 9:30am ; This herd of Elephants suddenly flocked the Banks of the Channel.
The Scene was truly amazing!
The Kazinga Channel in Uganda is a wide, 32-kilometre (20 mi) long natural channel that links Lake Edward and Lake George, and a dominant feature of Queen Elizabeth National Park. The channel attracts a varied range of animals and birds, with one of the world's largest concentration of hippos and numerous Nile crocodiles.
A cruise down the Kazinga Channel is the most relaxing way to enjoy a wildlife safari in Queen. The banks a jam parked with hippos, Buffalos and water birds. All you need to do is sit back in your sit with your camera or binoculars at the ready and enjoy the incredible spectacular.
Contact us here to Book a Safari Tour to Queen Elizabeth National Park
Take time to Track Chimps at the Kyambura Gorge
A gorge is a narrow valley with steep, rocky walls located between hills or mountains. The term comes from the French word gorge, which means throat or neck. A gorge is often smaller than a canyon, although both words are used to describe deep, narrow valleys with a stream or river running along their bottom.
The Kyambura gorge experience is more than discovering chimpanzee's in their natural environment. It teaches visitors about the echo systems of Kyambura gorge's underground rain forest, including vegetation types , bird identification and behavior , and chimp and monkey ecology. The Kyambura River flows through this thick underground forest 100 meters below the Kichwamba Escarpment.
The beautiful crater lakes of the Kyambura wildlife reserve offer excellent opportunities to observe many water birds including greater and lesser flamingos and other interesting bird species.
Contact us here to Book a Safari Tour to Queen Elizabeth National Park
You can Explore the Bat Cave in Maramagambo Forest
Maramagambo Forest is located in Bushenyi, Uganda. It is part of the Queen Elizabeth National Park and is located in the southern part of the forest.
The forest is bordered by two crater lakes named Lake Kyasanduka and Lake Nyamasingiri. The Maramagambo Forest crater lakes have a bat cave with specially constructed viewing rooms where you can observe the bats and the Pythons that leave alongside them.
Contact us here to Book a Safari Tour to Queen Elizabeth National Park
The Isasha Sector at QENP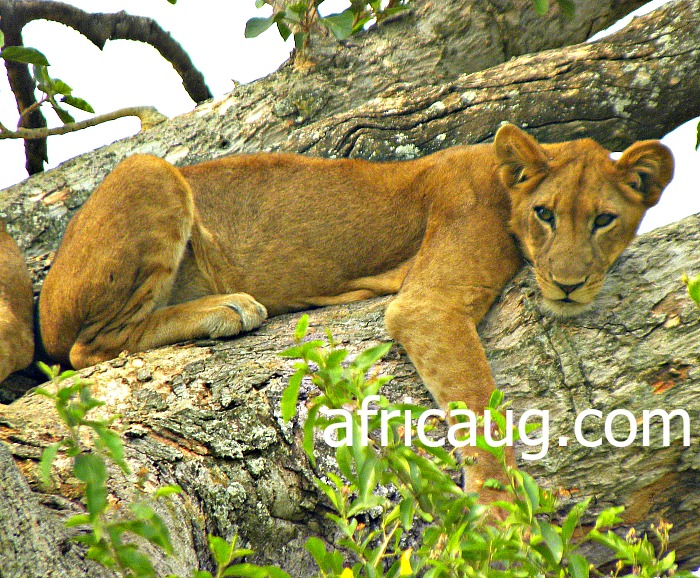 At around 3pm , we managed to capture these awesome young Climbing Lions resting on a Fig Tree at Ishasha Sector; Queen Elizabeth National Park.
You need luck from God, good weather & an Excellent guide to spot these Iconic African Creatures.
The Ishasha sector is notably recognized for its resident Tree climbing lions that are an exceptional attraction and one among the highlights on all safaris taken within Queen Elizabeth National park. In the southern section of this park, the Lions are now and again spotted hanging on braches of huge fig trees whereas the Uganda Kob (which are the major food to these lions) graze in the plains of the Ishasha sector.
In addition to the fascinating population of the Tree Climbing Lions within the Ishasha visitor will also come across huge buffalo herds, numerous antelopes that keep crossing the tracks, there are also a number of elephants that have actually settled within the Ishasha area and you will also find numerous hippos.
For a classic African safari experience , the trails through Kasenyi , the North Kazinga Plains and the Ishasha Sector offer an astonishing view , guaranteeing sightings of Africa's most iconic species.
Contact us here to Book a Safari Tour to Queen Elizabeth National Park
The History of Queen Elizabeth National Park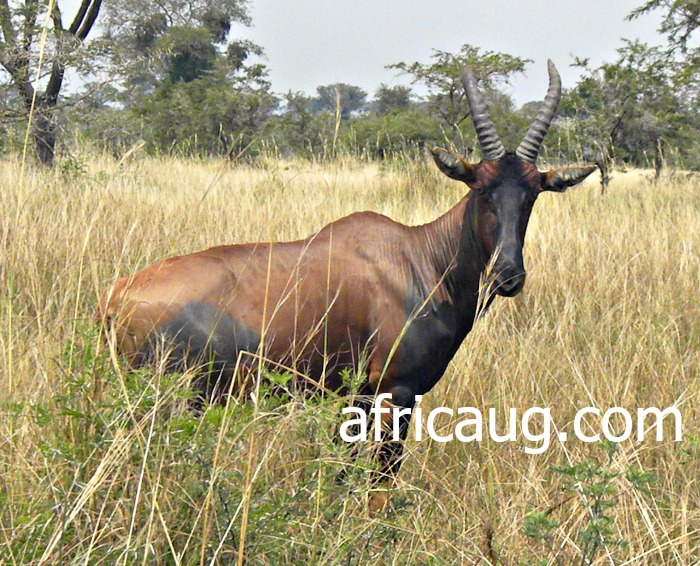 Elegant...! The Topi Antelope at Queen Elizabeth National Park. We came to learn from our Tour guide that this is the Fastest Antelope in the Park.
The area currently occupied by the Queen Elizabeth National Park was previously a grazing area for local Basongora pastoralists. When British explorers Stanley and Lugard toured the area towards the end of last century, both reported the area to have been largely depopulated as a result of cattle raiding (from the Bunyoro and Buganda kingdoms) and epidemics of rinderpest and smallpox.
The Basongora social economy could not recover from these events and with the exception of remnant villages around the two lakes, the area was almost completely depopulated. Those who did remain were forced to turn to fishing.
These events allowed the game populations to increase and vegetation to change significantly, and played an important role in determining the creation of the national park by the Protectorate administration.
In 1906, the area to the north of Lake George was declared a Game Reserve, in order to prevent what some administrators believed to be unregulated hunting by Africans and Europeans and growing pressure for development of cotton and wheat production.
Contact us here to Book a Safari Tour to Queen Elizabeth National Park

By 1912, the whole of the Lake George and Ishasha areas (Lake George Game Reserve) were declared restricted areas, agricultural and fishing communities moved out to other non-affected areas and the area was largely abandoned. Further outbreaks of sleeping sickness continued up until the mid 1930s.
The National Park Ordinance was passed on 31st March 1952 and Queen Elizabeth National Park then, Kazinga National Park was legally gazetted later that year, following intense lobbying by the Chief Game Warden of that time, Bruce Kinloch, and the Governor.
As a result, the land area protected within the Lake George Game Reserve area was expanded considerably to include a large area to the east of Lake Edward and Kazinga Channel.
Contact us here to Book a Safari Tour to Queen Elizabeth National Park

Haven't yet found what you Want...?
If you haven't yet found what you were looking for or you need detailed information about the subject matter on this page

then...

feel free to ask our business travel consultants.