SEMULIKI WILDLIFE RESERVE GUIDE
You will enjoy Semuliki wildlife reserve if you're seeking a birding Safari with great variety of bird species.
Semuliki has more than 400 bird species, and you will hardly find many of these birds in other game parks within East Africa.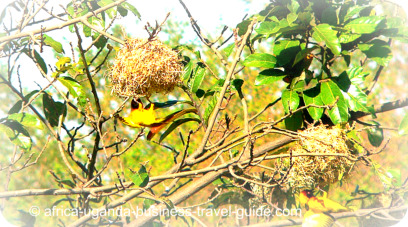 On this page we give you information that will help you plan memorable birdwatching tour to Uganda.
You will find
Overview
Semuliki Wildlife Reserve is Uganda's oldest wild life reserve formerly known as the Toro Game reserve which was gazetted in 1932.
This large reserve abutting Lake Albert and the northern base of the Rwenzoris is a rich mosaic of grassland, savannah, forest and wetland habitats.
Semuliki is a 545km sq sanctuary lying in western Ugandan, to the northeast of the Bundibugyo road extending to Ntoroko on the southern shores of Lake Albert.
The fauna in semuliki game reserve is correspondingly diverse:
What is amazing in this wildlife reserve are the more than 350 -400 species of birds!
Semuliki is known to have species of birds that are not seen in any of the East African National parks.
You will be able to see many of these birds during your game drives, including the Abyssinian ground hornbill.
Of the 400 bird species recorded at Semuliki, the shoebill stork is most regularly seen at close quarters on Lake Albert.
So, if you're a birdwatcher, Semuliki is the place to go!
The Uganda kob is the commonest large mammal in Semuliki wildlife reserve, but you will also find forest elephants, chimpanzees, buffaloes, leopards and various monkeys and antelopes.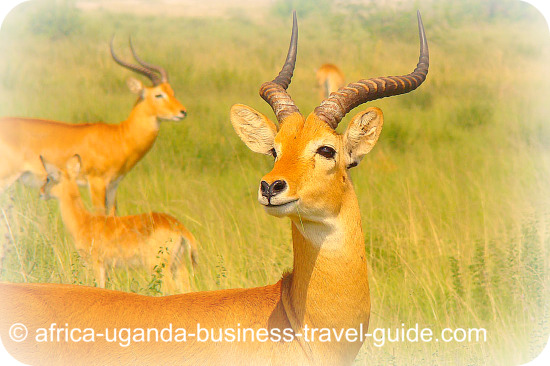 You will find the biggest population of the Uganda Kob within areas of short grass along with pairs of reedbuck.
Within this wildlife reserve you will also be able to see buffaloes and a small number of elephants and waterbuck, though not seen on a daily basis.
Semuliki wildlife reserve has the primates well represented, you will commonly find
The black & white colobus monkey,
Olive baboon,
red-tailed and
vervet monkeys in the gallery forest close to the Semliki Safari Lodge.
You will only spot the Leopards and Owls while taking a night drive within the park.
The lions are rarely seen here since they almost faced extinction during the civil war era, now they are just trying to recolonise themselves, but you may be lucky to spot some of them.
When to visit?
Any time of the year
Getting there!
Following the road to Semuliki National Park, there is a turn-off to the Semliki Valley Wildlife Reserve which is sign posted 30km along the Bundibugyo road at the small trading centre of Karugutu.
There is a 40 km long road that connects Karugutu to Ntoroko on Lake Albert, this runs right to the heart of the game reserve.
If you decide to use public transport there are many trucks that run directly between Fort portal and Ntoroko on most of the days.
Another option is if traveling to Bundibugyo you can stop at Karugutu, it is easier to catch a lift on one of the pick-up trucks that transport fish from Ntoroko.
Interesting Activities
The tourism travel activities you will enjoy at Semuliki Wildlife reserve range from Game drives, Guided walks, boat trips and Bird watching.
Game Drives
Game drives in the Uganda wildlife reserve can be very interesting. You will be able to appreciate the vast fauna in Semliki during your game drive.
Here you will also be able to see the Mugiri River Forest, the best tourism destination in Uganda for viewing different tree species, including the elusive leaf–love and many other local species.
When you drive through the open plains you will see a fascinating variety of raptors and the Abyssinian hornbill.
Guided Walks
Guided forest walks will offer you the chance to see more than 40 chimps that are residents of the Mugiri forest, these chimps are being habituated.
You also stand a chance of encountering the localized forest race of elephant.
Boat Trips
You can organize a Boat trip on Lake Albert through the Semliki Safari Lodge or with the local fishermen around, this is a worthwhile activity.
You may also request to be taken to the Nkusi Falls, a very impressive site within the park. Nkusi is a small mirror image of the Murchison's Falls.
Semuliki is one of the most reliable sites in Uganda for viewing different bird species including the shoebill,common water birds and the dazzling red-throated bee eater.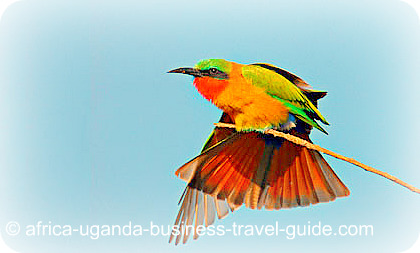 Tip
These red-throated bee- eaters form large colonies on sandbanks near Ntoroko. You could easily see these beautiful birds if you make your Uganda Tourism Safari between December and March.
Where to stay?
You can stay on one of the beautiful up market lodges or go for camping.
Semuliki Safari Lodge
This is one of the most luxurious bush retreats in Uganda built on the site of an older hunting lodge.
It has exotic large thatched tents with 4- poster beds, hand- carved furniture, and Persian rugs spread beautifully on the floors, en suite bathrooms and private verandah.
This lodge is located about 25 km down the road that connects Karugutu to Ntoroko on Lake Albert.
Facilities include a large swimming pool area which is overlooking a stretch of river in the forest that is inhabited by the black and white colobus and vervet monkeys.
This is the lodge that will offer you the full range of guided walks, game drives and night walks.
Uganda Wildlife Authority Campsite.
This wildlife campsite is located about 500m from the village on a sandbank overlooking Lake Albert.
Charges are fair US $ 6-7Per Person.
Local shoe string lodges
You will find a number of small lodges in Ntoroko. Services may not be very good but the charges are welcoming when you're working on a tight budget, around UGX 5000-8000 (USD 2.5-4) per person for a single room.
Tip
In my opinion, it is much better to stay at the Safari lodge which is at the heart of the game reserve.
Return from the Semuliki Wildlife Reserve Guide to the Uganda Tourism Business Guide
Home