UGANDA BIRDING SAFARI GUIDE
The African Blue Flycatcher
Are you Planning a Uganda Birding Safari...? Then get ready to meet the African Blue Flycatcher.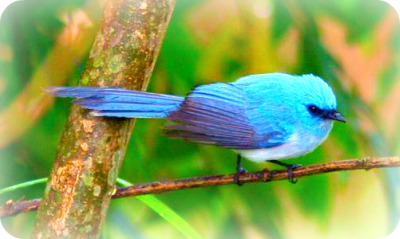 The information about African Blue Flycatchers in this section of the Uganda Birding Safari guide will help get the most out of your Bird watching tour to Africa.
You will find tip and info about
Where to find the African Blue Flycatcher (Elminia longicauda)
The blue flycatchers are very active little birds found in almost every part of Uganda even in people's gardens.
You will see plenty of the in Entebbe Botanical Garden & other gardens within Kampala, Semliki wildlife reserve and Queen Elizabeth National Park QENP.
Characteristics of the Blue flycatcher
They have slender body with slightly crested heads with a height of 14 cm.
It is blue in color with a narrow black line from the bill to the eye, it's under parts is whitish with a pale blue wash across the breast and a plain blue graduated long tail, the immature bird is greyish in color with buffy fringes on the under parts.
Habitually they like fanning out their tails.
In their habitats
You will be able to find them in singles and in pairs.
They are very active and you could watch them rush around in the canopy and middle levels of trees searching for food.
They have long and complex vocals metallic in nature, they use it for contact and mostly alarm call.
Return to the index page of The Uganda Birding Safari Guide
Return to The Uganda Tourism Business Guide.