UGANDA SAFARIS
Entebbe Tour Guide
Entebbe is the colonial capital city of Uganda and the site with Uganda's only International airport, situated along the Lake Victoria shore.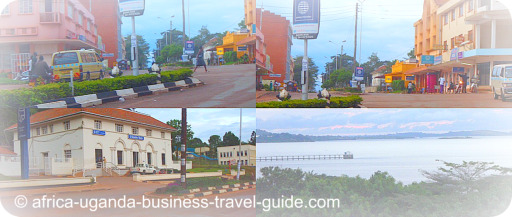 In 1913, Sir Frederick Treves who was coming fresh to Entebbe from the ports of Mwanza and Kisumu described the place as the prettiest and most charming town on the lake... A summer resort where no more business is undertaken than is absolutely necessary.. The town spreads in a languid careless way to the lake... the golf links are more conspicous than the capital.
More than a century later, it is difficult to dispute Treve's assesment!
The name Entebbe derives from the Luganda phrase Entebe za Mugala a luganda phase meaning the Headquaters of Mugala; the head of the lungfish clan
Your Entebbe tour will most likely begin early in the morning when you depart from your Hotel in Kampala or Entebbe.
In this section of the Uganda Safaris guide we have listed for you some of the areas which you should find on your itinerary. You may not visit all the areas in one day but you can use this list to ensure that your Uganda travel agent has not left out an interesting site.
Kigungu a Traditional Fishing Village
Ngamba Island Chimpanzee Sanctuary
Ensure your Uganda tour operator provides you with an English speaking guide.
Think you enjoyed your Entebbe Tour!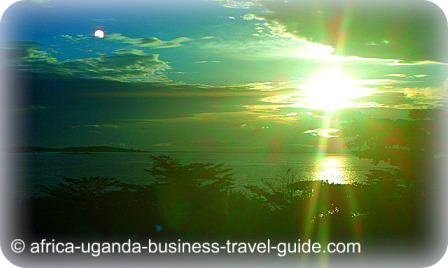 Wind it up with an explorative Traditional/Continental lunch at your best Entebbe Tourist Hotel.
You got it right....! I like the blue Hotel...!
Entebbe Botanical Gardens
Established in 1902, Entebbe's botanical garden is an attractively laid-out mix of indigenous forest, cultivation and horticulture, and a highly attractive destination to birdwatchers.
The Botanical garden offers an excellent introduction to Uganda's birds.
You will also find, mammals at Entebbe Botanical gardens including the Vervet , Black-and-white colobus monkeys, and Tree squirrels.
Admission charges to the gardens is less than 1USD!
Uganda Wildlife Education Center
Uganda Wildlife Education Center (UWEC) was opened in 1952 by the Colonial Government then, as an animal Orphanage that offered sanctuary to young animals found abandoned in protected areas due to the death or poaching of parent animals.
In the early 1960s, it became a traditional ZOO and became commonly known as Entebbe ZOO in which even non-indigenous species like bears and tigers were kept as an attraction.
Because of the political turmoil and inadequate government funding, the ZOO became continually run down until May 1994 when a proposal was made by the New York Zoological Society now the World Conservation Society, to turn it into a conservation education Center for conservation awareness purposes; hence the name, 'Uganda Wildlife Education Centre Trust'.
The Center currently has 10 Birds , 13 Species of Hoofstocks, 5 Reptiles, 9 primates and 5 Carnivores.
Return from The Entebbe Attractions Tour Guide to the Uganda Safaris Guide.