UGANDA BIRDING SAFARI GUIDE
The Bar-Tailed Trogon
If you are Planning a Uganda Birding Safari. Then plan to enjoy the Bar-Tailed Trogon.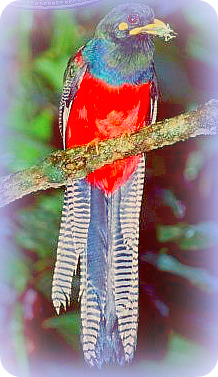 In this section of the Uganda Birding Safari Guide we share with you information about Bar-Tailed Trogons that could help you enjoy your Bird watching tour to Africa.
You will find information about:
Where to find the Bar-Tailed Trogon (Apaloderma vittatum)
The Bar-Tailed Trogon is a stunning secretive long tailed forest bird that sits motionless for long periods often high in the canopy.
It is similar to the more widespread Narina trogon found in Mpanga Forest but with blue breast band and barred tail.
You will be able to watch this bird in Bwindi especially in Buhoma area using a local bird guide who knows their call fweu fweu fweu fewu or sometimes yaow yaow if they are high up in the canopy.
Its characteristics
The Bar-Tailed Trogon is around 28cm in height.
The adult bird has dark green and red plumage with a blue band across the breast.
From behind the Bar-Tailed Trogon has a narrow tail with black and white edges while underneath the tail is entirely barred.
That's where it gets its name from; The bar-tailed trogon.
The adult female has dull brown head and breast while the immature ones have pale-tipped wing coverts.
In their Habitat
The Bar-Tailed Trogons are common in highland forest from 900-2600m and they occur either as single or in pairs.
So if you are on a trip to Bwindi Impenetrable National park, take a chance to watch this elusive bar-tailed trogon.
Return from The Bar-Tailed Trogon to the index page of The Uganda Birding Safari Guide
Return to The Uganda Tourism Business Guide.