Buy-Import-Export Premium Grade UGANDA VANILLA BEANS                           Buy-Import-Export Un-Refined Raw SHEA BUTTER 
Airtel Uganda reduces international call rates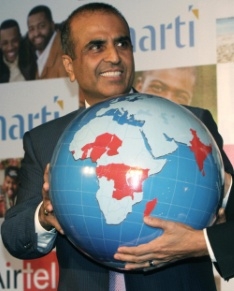 Airtel Chairman Bharti
Tuesday, 18 January 2011


Telecommunication Company Airtel has reduced the rates of calling from kampala to India and China to 3 shillings. This amount which is the same as the local call rates targets the business community that mainly depends on the two countries for trade.

Airtel's move comes in the midst of local price war that has seen tight competition in the telecommunication industry in Uganda.

Even as Telecommunication companies are now sailing on the same call rate of 3 shillings per unit across all networks they have not stopped thinking of how to expand their subscription. Airtel Uganda has broken further into the competition by introducing a 3 shillings charge on all calls from Uganda to India and China from a rate of between 290 and 300 shillings.

Trade between Uganda and China stands at over 800 billion shillings annually and therefore, Airtel's low call rates to these countries may be a ploy to attract the loyalty of the people at the base of the business pyramid, who have small but consistent income.

Although this move is a threat to Airtel's revenue the company says that it is working on a long term strategy that entails reduction of call rates to increase subscription attaining loyalty and later enjoying profits in the long term.

Join in and write your own page! It's easy to do. How? Simply click here to return to Frequently Asked Questions about ICT in Uganda.
Haven't yet found what you Want...?
If you haven't yet found what you were looking for or you need detailed information about the subject matter on this page

then...

feel free to ask our business travel consultants.