How to guide on keeping broiler chicken in Uganda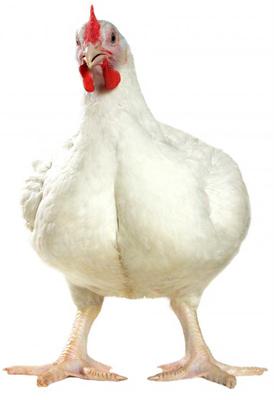 Broiler Chicken
Broiler chickens (Gallus gallus domesticus) are a domesticated fowl, a subspecies of the Red Junglefowl, bred and raised specifically for meat production.

Typical broilers have white feathers and yellowish skin. Most commercial broilers bred for meat reach slaughter weight at between 5 to 7 weeks of age, although slower growing strains reach slaughter weight at approximately 14 weeks of age. Because of this young age, much of their behavior and physiology is that of an immature bird.

Broiler chickens in Uganda are normally kept successfully under the intensive system of poultry management. The intensive system also includes two subsystems:
the semi-intensive system, in which a small number of birds are produced in complete confinement, and the industrial system in which large number of birds are raised based on industrial principals where value is added to every unit of input along the production chain to give high value products (chicken) to meet an identified need particularly in urban markets.


How to Feed & space your Broiler birds right in Uganda
You need to understand that feed is and will form the largest cost of production for your broiler chicken in Uganda. Feeding alone could eat up between 60-70% of your total production cost. You therefore must therefore take care to prevent feed wastage on your broiler firm in Uganda and ensure that the feed you have put is utilized as efficiently as possible.
Before you even make an order of your one day old broiler chicks be sure that your total feed requirement for these birds to market weight is calculated. And you should also make sure that as a smart broiler farmer in Africa, the supply for these feeds for your birds is guaranteed.
Your Broiler birds could grow within a period of Six (6) to Eight (8) weeks to about 1.6 -2.2Kg which would be ideal for selling on the Ugandan markets.
Feeds per broiler chicken in Uganda are estimated at 2.2kg for a period of 8 weeks at slaughter age. With a Feed Conversion Rate (FCR) of 2.5, the feed quantity consumed per bird is: 2.5 X 2.2 = 5.5 Kg
Feed ratios in Uganda are as follows
:
You start by feeding your broilers with broiler starter for 3 weeks and you give broiler finisher for the rest of the growing period.
Broiler starter per bird: 1.5-2.0 kg, consumed for 0-3 weeks
Broiler finisher per bird: 3.5-4.0 kg, consumed for 4-7 weeks
A bag of 70kg of broiler finisher and broiler starter each cost
UGX25,000 (check current price)
Each Kg therefore costs
Ushs 360 (check current price)
A bird consumes 6kg from day old to time of sale. This translates to Ush 2,160 per bird. Since the average price of a bird is
Ushs 6,000 (check current price)
. The cost of feeding is 2,160 ÷ 6,000 = 1/3 the price of an adult chicken.
With regard to spacing, you will have to plan for Eleven (11) to thirteen (13) broilers per square meter.
Feeding space is about 4cm per bird for the long feeder and 2.5cm per bird when using the round feeder.
For drinking space plan 2cm per bird for the long drinkers and 1.5cm per broiler bird for the round drinkers.
To avoid food wastage, you should never fill the feeders to more than one third.
And your feeders should never be empty if you want your birds to grow well.
Expect average mortality of 3-6%, meaning, if you're keeping 100 birds expect that 3 to 6 of your broiler birds will die even when you have kept all our tips to the letter.
Make sure your broiler drinkers always have clean fresh water because the birds drink 2.5 to 3 times more the amount of feed they have eaten depending on the weather.
Common Poultry Feed Ingredients Used in Uganda
Energy
• Maize bran
• Rice bran
• Maize flower
Protein
• Fish meal
• Blood meal
Energy and protein
• Sunflower seed
• Cottonseed
• Grain by-products
• Groundnut
• Sesame seed
• Sunflower seed
Minerals
• Lake shells
• Egg shells
• Vitamins
• Rice by-products
How to mix broiler starter mash – Ingredients
• 100 Kg of Maize brand
• 30 kg Fish
• 20 kg cotton
• 8 kg shells
• 150 gms menthonie
• ½ kg calcium
• ¾ kg primix
How to mix broiler finisher – Ingredients
• 100Kg brand
• 25 kg fish
• 10 kg cotton
• 2 kg shells
• 2 kg bone
• 150 gm
• menthorine
How to Control Poultry Diseases on your Broiler Farm in Africa
As broiler chicken live closer together, your broiler chicken house floor should be covered with about Six (6) inches of litter (wood shavings or coffee husks).
You need to do your best to keep this litter dry because dump, moist and caked litter will bring diseases to your broilers birds and cause slow growth.
For this cause you thus need build a well ventilated poultry house and you should not leave curtains hanging. You also need to keep regularly turning your litter.
Be sure to immunize your broiler chicken against the deadly New Castle Disease and Gumboro.
How to vaccinate your Broiler chicken right
Always follow the vaccination program.
Note and avoid using expired vaccines
Ensure proper storage and transportation of vaccines
Always use distilled (or boiled and cooled) water to prepare your vaccines
Give vitamins in water after vaccination
Typical vaccination schedule for Broiler chicken in Uganda
:
• 1st WEEK- New Castle 1 is given intra ocular, meaning the route of administration is by Eye drop.
• 2nd WEEK – Gumboro 1 is given by Eye drop as well
• 3rd WEEK – Give Gumboro 2 by eye-drop
• 4th WEEK – Give New Castle 2 La Sofa in drinking water
How to give treatment to your broiler birds
Follow the manufactures instructions for each drug
Do not use expired drugs
Follow the withdrawal period (from treatment to consumption)
Be sure to administer strong anti-biotics along with vitamins to reduce stress
Common Drug Treatment you might give your Broiler Chicken in Uganda
• Chick formula given as 1 teaspoon in 5L water
• Fuzol
• Mayai formula
• Ascarex used for De-worming birds, you mix 30gms to 20L water
• Oxyveto treats a variety of diseases: Urinary tract infection and chronic respiratory tract diseases. You mix 40 mls in 10L of water
• Sulphur dime Controls dysentery and acute chlorella you mix 2 to 3 tablespoons in 5L of water
• Mycomas Controls chlorella and flue you mix 2 mls in 2L of water
• Fuzol liquid is given after you've mixed 2 to 3 tablespoons in 5L of water
• Aminovit Provides vitamins, mix 2 – 3 tablespoons in 5L of water
• Vitalylate powder Boots vitamins in birds you mix 2 – 3 tablespoons in 5L of water
• Norocleanse Disinfectant spray poultry unit mix 10 mls in 30L water before you spray
• Levacide poultry (liquid) is used for De-worming
• Flumequine Treatment for flue mix 1 tablespoon in 1L of water
• Amprolium is used to Control coccidiosis
• Cocci plus is also used to Control coccidiosis
• Oxytetocycline is used to Control fever, you mix 1 teaspoon in 5L of water
• Neoceryl treats Newcastle Disease you mix 1 tablespoon in 10L water
• Anflox treats Typhoid , you mix 1 ml in 1L of water
• Oxytetracycline (Anti- biotic) treats Fever and wounds you mix 1 teaspoon in 3 – 5 L water
• Erythromyarie treats Respiratory infections, you mix 1 teaspoon in 3L water/1 tablespoon in 10L water
• DuDu dust used against Fleas, you Sprinkle in the feathers
• Cox – Plus oxytetracycline (Antibiotic) treats Fowl poxs you mix 1 Tablespoon in 10L water
• Tetracycline 25% is used to treat Gomborro IBD, you mix 1 tablespoon in 20 L of water
How to construct a good poultry house for your broilers
Your poultry house should be tall enough with wide window frames having wire mesh to enable free aeration. Good ventilation will remove excess heat, dust and other dangerous gases. Where possible, your poultry house floor should be concrete to guard against rodents like rats and to ensure thorough cleaning and disinfection.
Common poultry house building materials
• Iron sheets
• Plain nails
• Bags of cement
• Roofing nails
• Wire mesh.
• Bricks
• Wood
How to prepare for your Broiler Chicks before they arrive
Organize your market well in advance, good not to start if you do not have a market strategy
Book quality broiler chicks from a reputable supplier
Clean and disinfect your broiler chicken house and let it rest for 7 to 14 Days
Clean and disinfect your equipment
Ensure that you have enough charcoal for heating your brooder
Construct the brooder guards within your poultry house using 2ft high hardboards. You need only 4 boards for every 300 chicks
3 hours before your broiler chicks arrive, put on the heat to attain a temperature of 34 Degrees centigrade.
Make a glucose solution in a ratio of 1kg to 10liters of water
Place your drinkers and feeders around the heat source.
What to do when your broiler chicks arrive
Count the chicks to ensure that you know the starting number and that you've got what you paid for.
Place the chicks near your heat source within the brooder
Feed your chicks on Broiler starter mash
Maintain the correct temperature for your chicks
0-1 WEEK – 32-34⁰C
1-2 WEEKS- 30⁰C
2-3 WEEKS - 28⁰C
3-4 WEEKS - 26⁰C
4-8 WEEKS – 20-25⁰C
Use a reflector to ensure that the heat reaches your chicks
Increase the space as the chicks grow. You may have to remove the brooder ring between 7-10days. Your broilers will occupy the full space of the chicken house within about 4 weeks.