Buy-Import-Export Premium Grade UGANDA VANILLA BEANS                           Buy-Import-Export Un-Refined Raw SHEA BUTTER 
Your Honey Processing House in Uganda , Africa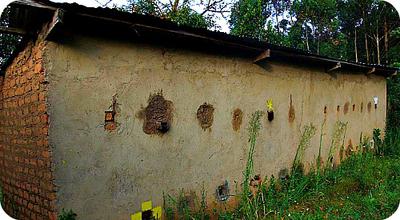 Honey Collection and Processing House in Africa , Uganda
Your Honey collection and processing business premises should have the following qualities:

The honey processing environment should be free of pests, contaminants and pollutants i.e. it should be free from filth, fumes, stagnant water/breeding places for mosquitoes, swampy areas, agrochemicals, human or animal waste or garbage.

The premises should be suitable in size for the purpose of handling/processing food

Your honey business should be spacious to allow smooth flow of processes

Should have adequate lighting

Should be vermin and bee proof

Should have good drainage and

Should have a high roof, with a smooth ceiling, impervious and easy to clean

Click Here to Buy/Sell Hive products and Beekeeping Equipment.


More Honey processing Equipment...
Honey Centrifuge Extractor, Press & straining cloth
Honey Refractometer & Weighing Scales
Honey Containers
Join in and write your own page! It's easy to do. How? Simply click here to return to Uganda Honey Beekeeping Guides & Updates.
Haven't yet found what you Want...?
If you haven't yet found what you were looking for or you need detailed information about the subject matter on this page

then...

feel free to ask our business travel consultants.