Buy-Import-Export Premium Grade UGANDA VANILLA BEANS                           Buy-Import-Export Un-Refined Raw SHEA BUTTER 
Honey Centrifuge Extractor, Press & straining cloth you can use in Uganda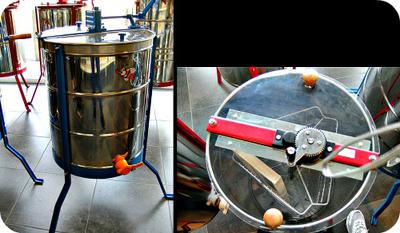 Honey Centrifuge Extractor to Use in Uganda , Africa
The Centrifuge extractor is a machine used to extract honey from combs and framed combs. It comes ready made.
Some are made of food grade plastic while others made of food grade stainless steel.

They have extracting capacity ranging from 2 frames to 18.

The combs or frames are arranged either radially, triangularly or rectangularly in order to extract honey.

There are manual extractors as well as the electrical ones.

All types have a spout for draining the honey out of the tank.

The bottom is convex inside to allow all the honey to drain. They are fitted on 3 stands.
The main body is cylindrical. They have 2 transparent plastic covers.

Click Here to Buy/Sell Hive products and Beekeeping Equipment.


More Honey processing Equipment...
Bee house
Honey Refractometer & Weighing Scales
Honey Containers
Haven't yet found what you Want...?
If you haven't yet found what you were looking for or you need detailed information about the subject matter on this page

then...

feel free to ask our business travel consultants.