THE APOKA LODGE
Top Uganda Accommodation in Kidepo Valley National Park
Apoka Lodge is in the heart of Kidepo Valley National Park.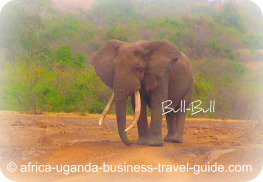 This up market Uganda accommodation, planted in rocks overlooks the sensational savannah landscape & the steep jagged mountains.
The lodge has 10 cottages; most of them are raised and made of local materials, timber & thatched roofs.
The beautiful African art inside & outside the cottages are locally made by the local craftsmen.
The cottages offer endless views across the Savannah that teems with the Wildlife.
At this high ranking Uganda accommodation facility, you will have plenty of space for relaxation, spacious sitting rooms and private verandahs.
The rooms have large beds neatly made and are draped with mosquito nets, hand woven woolen carpets spread on the wooden floor, locally made wooden coffee table & comfortable soft chairs.
Each room has its own en-suite bathroom which has a large tropical shower with hot water which is heated by solar power.
Interesting activities at Apoka lodge
Visitors get all they need for all packages including drinks & foods of all kind.
Activities at Apoka Lodge include
Game drives,
Guided walks,and
Bird watching,
You can also visit the local Karimojong communities in their manyattas,
To wrap up your evenings, you can enjoy the sundowner parties offered at the lodge.
Strange visitors at Apoka lodge
Since wildlife in Kidepo is abundant, don't be surprised when you wake up in the morning only to find lions sleeping outside your cottage verandah!
Giraffes & leopards can be easily seen from this lodge so are the many herds of buffaloes around but most of all you will never miss seeing the amazing Bull Bull!
This is an amazing 6,000kg male elephant that loves alcohol kwete a local brew made of maize.
He has refused to be with his kin because of love for kwete!
The managers of Apoka lodge call him a true gentleman!
Even though he drinks himself silly, bull bull still manages to be gentle & friendly to visitors.
So if you are at this top Uganda accomodation facility, get ready to raise your adrenaline as you watch bull bull dance around when drunk!
Return from Apoka lodge to The Kidepo Valley National Park Guide.
Return to the Uganda accommodation directory
Return to the Uganda Tourism Business Guide.
Home