Buy-Import-Export Premium Grade UGANDA VANILLA BEANS                           Buy-Import-Export Un-Refined Raw SHEA BUTTER 
The Honey Beehive tool set you will need in Uganda , Africa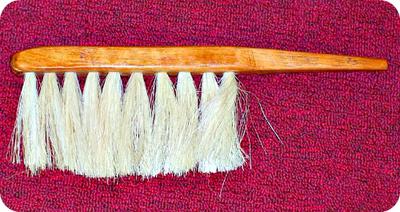 Honey Beehive Brush for Uganda, Africa
Your Honey Beehive tool set will consists of a bee brush, hive opener and a stainless steel knife;

The bee brush should be made of soft natural fibre e.g. sisal fibre. You can also use a bird quill feather or very soft leaves or grass provided they are clean.

The hive opener is made out of flat iron bar of 6mm thickness, width of 25mm and length of 24cm.
Your hive opener is sharpened at both ends but curved at one end and should be painted with rustproof paint to avoid contamination of honey with corrosion and rusting with honey.

Click Here to Buy/Sell Hive products and Beekeeping Equipment.


More Bee harvesting gear...
Bee smoker
Beekeeping Suit, Gloves and Gumboots
Join in and write your own page! It's easy to do. How? Simply click here to return to Uganda Honey Beekeeping Guides & Updates.
Haven't yet found what you Want...?
If you haven't yet found what you were looking for or you need detailed information about the subject matter on this page

then...

feel free to ask our business travel consultants.