Beekeeping Suit, Bee Gloves & Gumboots you will need in Uganda , Africa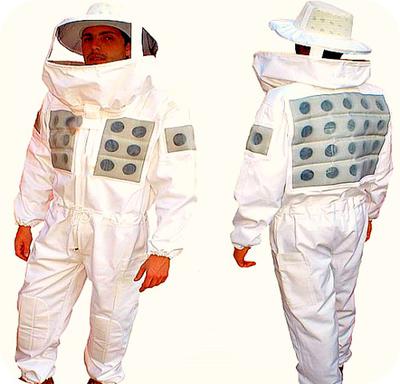 Honey Beekeeping Suit for Uganda, Africa
Beekeeping suit
Consists of an overall and a head veil; the overall is made of white or yellow khaki material with a head veil attached to it.
The net of the head veil is made out of strong black nylon material in order to have good vision and ventilation.
The hat of the veil consists of the same khaki material of the overall with a round stretching stiff ring of approximate diameter of 42 cm.
The veil is attached to the overall with a double zip and can be detached.
The overall should cover whole body right from the legs, arms up to the neck with a long jacket zipper from the fry up to the neck.
The overall should be fitting loosely (not tight) with provision of pockets; at least 4 pockets - 2 at the chest and 2 around the thighs.
There should be elastic of code 16 at the wrist and ankles.
Beekeeping gloves
Can be made of soft leather material or soft latex gloves, joined with a piece of cloth of the same khaki material and colour of white or yellow as that of the overall, reaching up to the elbow fixed with an elastic of code 16.
Gumboots for Beekeeping in Uganda
Gumboots to be used by a beekeeper should be white in colour and of his/her own size.
You may even innovate a gumboot out of polythene sacks normally used in Uganda for carrying maize, beans, sugar and used as overshoes and tie over the overall near the knee.
Click Here to
Buy/Sell Hive products and Beekeeping Equipment
.
More Bee harvesting gear...
Bee smoker
Beehive tool set