UGANDA HOTELS BOOKING GUIDE
Emin Pasha Hotel Kampala
When planning a Business trip to Africa, plan to book into Emin Pasha Hotel Kampala if you're seeking luxurious accommodation with a natural ambiance within the city center of Kampala, Uganda's Capital.
Kindly book this Uganda Hotel with us here...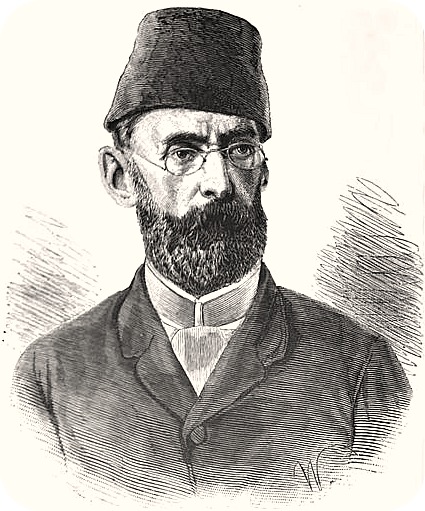 This Uganda hotel is named after a Jewish traveler, naturalist and bird enthusiast, Emin Pasha a.k.a Eduard Schnitzer former Governor of the Egyptian province of Equatoria on the upper Nile, which Uganda was part.
Emin first worked in the Equatorial province as the Chief Medical Officer on appointment by Charles George Gordon, the Provincial Governor in 1876.
During the time, Emin Pasha made several Diplomatic Missions to Buganda and Bunyoro.
Emin Pasha became popular in the South of the province because of his modest style and his fluency in Luganda.
Find more information about the African Travels of Emin Pasha from The Uganda Business Travel Diary.
In this section of the Uganda Hotels Booking Guide you will find tips and information to help you evaluate whether Emin Pasha Hotel Kampala is the perfect Hotel Booking for your business travel needs in Africa.
You will find information about:
Emin Pasha Hotel can make an excellent retreat venue for your corporate planning meetings within the city.
At Emin Pasha Hotel you will recieve personal attention and a high level of service, in a private and calm environment amidst an otherwise chaotic Kampala.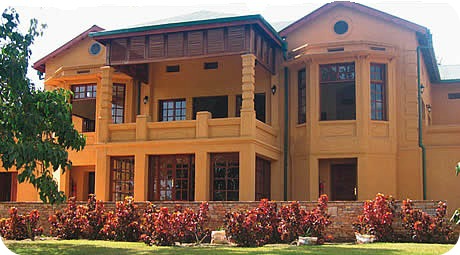 You can book this Uganda Hotel with us here...
Where to find Emin Pasha Hotel
You will find Emin Pasha Hotel located right near the city Center of Kampala, the hotel is set in two acres of peaceful park-like tropical gardens.
You will reside amidst big mature trees, flowering shrubs and scented vines, yet within walking distance to the Commercial Business District and many Embassies and Foreign Missions.
You can open this link to locate Emin Pasha Hotel on the Uganda Hotels Search Map.
Hotel accommodation and room rates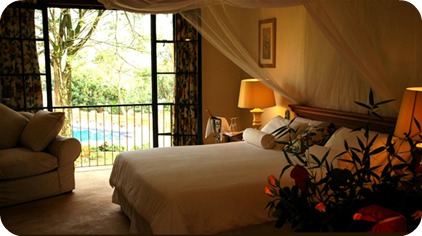 Emin Pasha Hotel has a total of 20 luxurious rooms and one self contained private flat for longer stays.
The Hotel rooms are all air conditioned and well equipped.
Each room is different in terms of layout, size and decor, but all are decorated with the ever changing African landscape in mind.
In the table below we summarise for you the different types of rooms you will find at this Uganda Hotel and estimates of the room rates for each type of room.
| | | | |
| --- | --- | --- | --- |
| No. of Rooms | Type of Rooms | Single Room Rates per Person | Double Room rates per Person |
| 8 | Garden Rooms | USD 260 | USD 145 |
| 2 | Garden Suites | USD 280 | USD 155 |
| 8 | Superior Rooms | USD 280 | USD 155 |
| 2 | Superior Suites | USD 330 | USD 175 |
The Rates listed are inclusive of breakfast but do not include local taxes.
Your children aged 3-12 years will be charged USD25 when sharing a room with an adult.
Compare Emin Pasha Hotel room rates with other Hotels in Uganda.
If you've liked the Emin Pasha Hotel room rates, you can Reserve your room in this Uganda Hotel from here
What you will find in your Hotel Room at Emin Pasha Hotel Kampala
You will find you room furnished with hardwood furniture,
Tea and coffee making facilities
A direct dial telephone
Internet connectivity
Satellite television
Egyptian cotton sheets,
Summer-weight duvets,
Giant soft towels,
Long deep cast iron bathtubs (salvaged from derelict colonial buildings and re-enameled) or giant tropical 'monsoon' showers with African slate floors.
You will find the floors in the rooms made of reconstituted stone and cool underfoot (very welcome in Equatorial Africa), and
Your room will have at least one oversized armchair or sofa...perfect for curling into with a good book or magazine.
Kindly book this Uganda Hotel with us here...
Emin Pasha Hotel Kampala Business Services
If you're a business traveler, you will find your room with internet access and plenty of desk space to get your work done.
You will also have a direct dial telephone in your room.
Emin Pasha Hotel has several Wireless internet hotspots around the Hotel property, so if you want to take your laptop to the pool or to the wine bar, you will still stay connected.
This Uganda Hotel has a small business center and several private rooms which you can book for your business meetings and small conferences.
Emin Pasha Hotel has hosted many workshops at the hotel you can arrange working breakfasts, private meetings, conferences, cocktails and more...
The central location of this Uganda Hotel makes it easy to get around Kampala, and the hotel staff will be more than willing to help you with any extra business arrangements you may need.
At the end of a long hard day, you will be able to relax in the lovely Hotel Tropical gardens.
Kindly book this Uganda Hotel with us here...
Emin Pasha Hotel Kampala Restaurants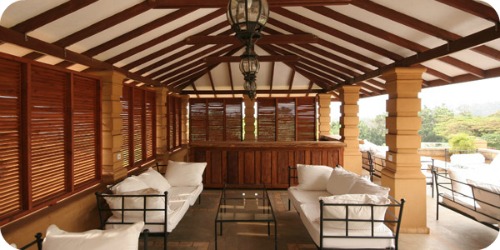 Emin Pasha Hotel has one restaurant, The Fez Brasserie and one bar, The Wine Bar, which are fine places to eat and drink in Kampala.
The ambiance is inviting and the food is outstanding.
At the bar, which is completely open to the elements on one side - deep sofas, armchairs and chunky coffee tables invite you to relax and put your feet up.
Glowing fires in terracotta pots and waiters in white djellabas and crimson fezes are a gentle reminder that you are in tropical Africa.
At the restaurant, also open to the tropical evening, spills out onto the garden terrace so you will be able to eat under the stars if you wish.
The dynamic menu changes regularly, reflecting the seasonal freshness of the Uganda local produce.
Chef Shaun Christian scours the markets and creates the menu around what is fresh and good and local.
The offering is eclectic, with clear Pan-African and Asian influences..but not forgetting the more traditional continental favorites.
The newest area, the upstairs terrace or 'bar under the stars' is perfect for sundowners.
The view from the terrace looks west towards the sunset, across the treetops to the spire of Makerere University and the leafy hills beyond.
This Upstairs Teracce is also an ideal spot for an after dinner coffee overlooking the twinkling lights of Kampala.
Kindly book this Uganda Hotel with us here...
Relaxation at Emin Pasha Hotel Kampala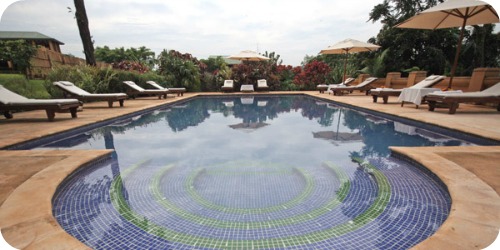 When traveling for leisure traveler, you find Emin Pasha Hotel Kampala a perfect place to sit back, relax and enjoy what this Uganda hotel has to offer.
You will be able to have an Spa Signature Massage,take a plunge in the swimming pool, get your toes done, there is even a hairdresser on-call.
Emin Pasha Hotel Kampala can also make an ideal base from which you can explore Kampala or to even launch a full blown Uganda Safari, to acclimatise to the time and the weather before setting off upcountry.
Emin Pasha Hotel Booking Form
Book your Uganda hotel with us and enjoy our free room verification services and great discounts for group accommodation.
With our established backgrounds in Africa Business travel, event management and attention to detail, our dedicated consultants will execute all the intricate details, allowing you to focus on the content and the generation of successful business trip results.

Emin Pasha Hotel Reviews
Its time to share your Emin Pasha Hotel experience...
Have you ever enjoyed the services of Emin Pasha Hotel at any one time during your Business travels to Africa and have a great story...? Then Share it?

If you've held a successful business retreat at Emin Pasha Hotel

You've had a memorable family party at Emin Pasha Hotel or

You've stayed in the Hotel and enjoyed the tranquility of the Emin Pahsa Hotel tropical gardens...!

In this Uganda Hotels, Booking Guide we give you the chance to tell your story.
Return from The Emin Pasha Hotel Booking Guide to The Uganda Hotels Directory.
Haven't yet found what you Want...?
If you haven't yet found what you were looking for or you need detailed information about the subject matter on this page

then...

feel free to ask our business travel consultants.