Vegan Vanilla Ice Cream Recipe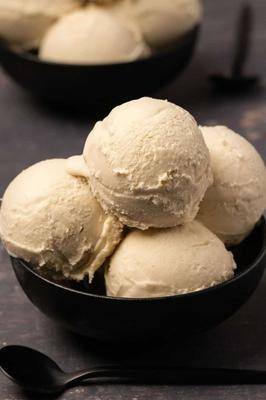 Vegan Vanilla Ice Cream
How to make Vegan Vanilla Ice Cream
Non dairy vanilla ice cream - Recipe

Vegan vanilla ice cream is easy healthy coconut ice cream recipe made with coconut milk, maple syrup and vanilla extract.

Prep Time: 12 hours
Cook Time: 20 minutes
Total Time: 12 hours 20 minutes
Yield: 8 servings

Ingredients
2 x 14 oz cans coconut milk, full fat
2/3 cup maple syrup or raw honey**
2 vanilla beans or 2 tsp pure vanilla extract


Directions
Place bowl of an ice cream maker in a freezer the night before. It is and important step!
Also the night before, in a blender or food processor, add coconut milk, maple syrup and vanilla extract. If using vanilla beans, lay them on a cutting board, cut in the middle lengthwise and scrape out the seeds with a paring knife.
Add to the blender and process until well combined. Place mixture in a fridge to chill overnight.
This is important step otherwise your ice cream won't crystallize, especially if it is hot outside.
The next day, pour ice cream mixture into frozen ice cream bowl, place lid on top and turn it on to start churning. Depending on your ice cream machine it may take 20-60 minutes to bring ice cream to a soft serve consistency. It won't fully freeze.
Transfer soft serve ice cream into any container with a lid and freeze for another hour or so. To serve, let thaw for 5-10 minutes.
Store: Freeze in a glass airtight container for up to a few months.
Author: ifoodreal.com