Vegan Chocolate Chip Vanilla Cookies Recipe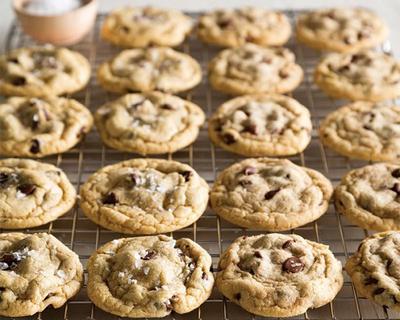 Vegan Chocolate Chip Vanilla Cookies
How to Make Vegan Chocolate Chip Vanilla Cookies
Organic vegan chocolate chip vanilla

Total Time: 11m
Yield: 11-14 cookies


Ingredients
1 cup white, oat, or spelt flour
1/2 tsp baking soda
1/4 tsp salt
1/4 cup sugar, unrefined if desired (For a version with no sugar, try these breakfast cookies)
1/4 cup brown sugar or coconut sugar
1/3 cup chocolate chips
2 tbsp milk of choice, plus more if needed
2 tbsp oil
1/4 tsp pure vanilla extract
Directions
Combine all dry ingredients in a bowl, then stir in wet to form a dough – it will be dry at first, so keep stirring until a cookie-dough texture is achieved.
If needed, add 1-2 tbsp extra milk of choice. Form into one big ball, then either refrigerate at least 2 hours or freeze until the dough is cold.
Once dough is chilled, preheat oven to 325 F. Form dough balls, and place on a greased baking tray, leaving enough room between cookies for them to spread.
Bake 11 minutes on the center rack. They'll look underdone when you take them out.
Let them cool on the baking tray 10 minutes before touching, during which time they will firm up.
If for whatever reason the cookies don't spread enough (climate can play a huge role), just press down with a spoon after baking.
You can also choose to make extra cookie dough balls and freeze them to bake at a later date.