Vanilla Spiced Nuts Recipe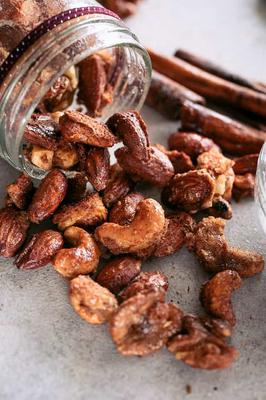 Vanilla Spiced Nuts
How to make vanilla nuts

Prep Time: 10 mins
Cook Time: 20 mins
Total Time: 30 mins
Yield: 16 Servings

Sweet, crunchy and absolutely irresistible nuts coated with a perfect blend of spice and vanilla.


Ingredients
1 egg white
2 teaspoons vanilla bean paste (you can also use the same amount of pure vanilla extract)
4 cups mixed nuts (I use almonds, cashews, walnuts)
3/4 cups sugar
1/4 teaspoon salt
1/2 teaspoon allspice
1/2 teaspoon ground cinnamon
Cooking Directions
Preheat oven to 300F.
Grease a baking sheet with cooking spray and set aside.
In a large mixing bowl, beat the egg white with the vanilla bean paste until frothy.
Add the nuts to the egg white mixture and stir to combine.
In a separate bowl combine sugar, salt, allspice, and ground cinnamon; mix until thoroughly incorporated.
Add spices to the nuts and stir to combine.
Transfer nuts to previously prepared baking sheet and spread them out in one single layer.
Bake for 20 minutes, stirring once half way through baking.
Remove from oven and transfer to a wax paper lined baking sheet; let cool.
Break apart and serve.
Author: Katerina | Diethood