Vanilla Scented Butter Sauce Recipe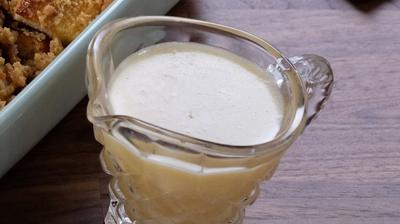 Vanilla Scented Butter Sauce
How to make Vanilla Scented Butter Sauce

Yield: 1 Serving


Ingredients
3 Tablespoons shallots -- chopped
1/2 Cup mushrooms -- sliced
3 Tablespoons unsalted butter
3 Cups flavorful quail or chicken stock
1 Cup dry white wine
2/3 Cup heavy cream
1 3-inch vanilla bean -split
1 Tablespoon lemon juice
Salt and freshly ground black pepper
Directions
Saute the shallots and mushrooms in 2 tablespoons of butter till lightly
Browned. Add stock add wine and reduce by half.
Add cream and vanilla bean and reduce again to a light sauce consistency.
Strain. Scrape the soft center of the vanilla bean into the strained sauce.
Correct seasoning with drops of lemon juice, salt and pepper.
Whisk in remaining butter in bits. Hold the sauce in a warm water bath until serving time (up to 2 hours).
Author: Cooking Right Show