Vanilla Custard Pudding Recipe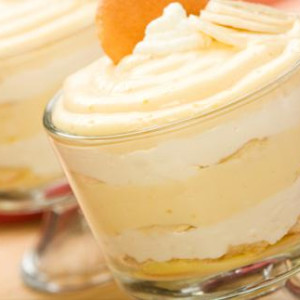 Vanilla Custard Pudding
How to make Vanilla Custard Pudding
Vanilla Custard recipe


Ingredients
1.75 ounces (1/4 cup) sugar
1.25 ounces (2 tablespoons, 2 teaspoons) cornstarch
1/4 teaspoon salt
16 ounces (2 cups) whole milk
2 egg yolks
1/2 ounce (1 tablespoon) butter
1 teaspoon vanilla extract
Directions
Start by combining the dry ingredients in a small saucepan.
Whisk them together. The littler the whisk, the better
Pour in the milk…
Whisk it all together thoroughly, checking the corners of the pan to make sure there's no clumped-up starch hiding there.
Put the pan over medium-high heat and bring it to a boil for about 20-30 seconds. It'll thicken noticeably.
Pour about a third of the mixture over your egg yolks to temper them (i.e. gently bring them up to temperature)…
…whisk, and pour the whole mess back into the saucepan.
…pour in a little vanilla extract…
…and you're done! Pour the custard (pudding) into serving cups if that's how you intend to present it.
Otherwise transfer the custard to a bowl and let it cool down for at least half an hour, stirring every so often to keep it smooth.
Chill it and serve.