Vanilla Cookies with Vanilla Bean Glaze Recipe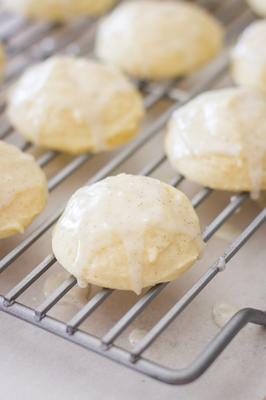 Vanilla Cookies with Vanilla Bean Glaze
How to make Vanilla Cookies with Vanilla Bean Glaze


Prep time: 20 MINUTES
Cook time: 10 MINUTES
Total time: 30 MINUTES
Yield: 6 DOZEN



Ingredients
Vanilla Cookies
3 cups (384g) all-purpose flour
5 teaspoons baking powder
1/2 teaspoon salt
1/2 cup (113g) butter
1/4 cup (48g) shortening
3/4 cup (150g) granulated sugar
4 large eggs
1 tablespoon Pure Vanilla Bean Paste
Vanilla Bean Glaze
2 cups (226g) confectioners' sugar, sifted
2-4 tablespoons milk
1 teaspoon Pure Vanilla Bean Paste
Directions
For the Cookies
Preheat oven to 375°F/190°C. Line baking sheet with parchment paper or silicone mat; set aside.
In a large bowl, sift together flour baking powder and salt; set aside.
In a large microwave-safe bowl, melt butter and shortening. Using an electric mixer, add sugar and blend ingredients well. Add eggs one at a time, beating well after each addition. Stir in vanilla bean paste. Gradually add dry ingredients, stirring just until combined.
Roll dough into 3/4 inch balls, or about 2 teaspoons. The dough will be soft. If dough is too sticky, use floured hands. Place on prepared cookie sheet, about 2 inches apart.
Bake for 8-10 minutes, or just until tops begin to crack
Remove cookies to wire rack and cool completely before glazing.
For the Glaze
Place sifted confectioners' sugar in a small bowl and add 2 tablespoons of milk and vanilla bean paste.
Mix until all of the sugar is incorporated. Add additional milk as needed; glaze should be on the thick side.
Dip tops of cookies in glaze and allow to dry.