Vanilla Cocoa Body Butter Recipe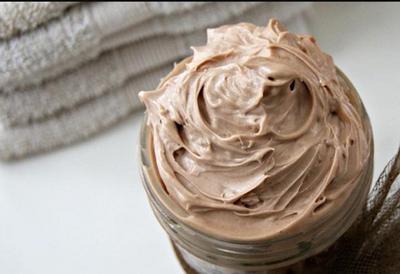 Vanilla Cocoa Body Butter
This body butter smells wonderfully of vanilla, chocolate and coconut. It takes its amazing scent from deliciously natural ingredients that will leave your skin soft, moisturized and smelling amazingly yummy.

Coconut oil is great for improving skin's elasticity, complexion and making it soft and supple.

Cocoa butter is high in antioxidants, which helps to counter the aging of the skin. It is also high in fatty acids. It can penetrate deep down into the skin, hydrating and nourishing it from within. It can also help in treating various skin conditions such as psoriasis, dermatitis and skin irritation.

This anhydrous (oil based) butter is so easy to prepare and requires the minimum amount of ingredients – just three, in fact! Since it does not contain any water, it doesn't require any preservatives, which makes it 100% natural. It is gentle enough to be used anywhere on the body and face.

One of the main ingredients in this butter is vanilla-infused coconut oil and there are a few ways in which an oil can be infused.


Ingredients
To make this beautiful body butter you will need:
1 vanilla pod
100g cocoa butter
130g cold pressed coconut oil
Directions
Making the vanilla-infused coconut oil
Melt the coconut oil gently in a bain marie or by placing a coconut oil jar in a bowl of hot water. Warm it just enough to melt the coconut oil.
Split the vanilla pod lengthways and scrape the seeds into a coconut oil jar. Chop the rest of the pod into small pieces and also place them into the jar.
Place the lid on the jar and leave to infuse for around one to two weeks in a warm place.
Once the coconut oil is infused, strain off the vanilla oil through a muslin cloth, a sieve or a filter coffee bag. If the coconut oil has solidified, melt it before straining it.
Making the vanilla cocoa body butter
Chop the cocoa butter and start to melt it gently in a bain marie.
Add the infused coconut oil to the cocoa butter and melt for a few minutes.
Once the blend is totally molten, remove from the heat and let it cool for around 20 minutes (you can put it in a fridge to speed up the cooling process).
Once the mixture has cooled start whisking it, either with a hand or electric whisk until it turns into a creamy potion.
You can use a palette knife, a piping bag or a spoon to fill up your jar with this gorgeous vanilla butter.
How to use
Massage the cream into damp skin after a bath or a shower and enjoy beautifully moisturized, soft, supple and gorgeously smelling skin.
This butter has a shelf life of around six months.
To ensure its shelf life please store in a dry place, apply with clean hands and do not allow water to enter the product.
Enjoy beautiful skin!