Vanilla Cinnamon Almond Butter Recipe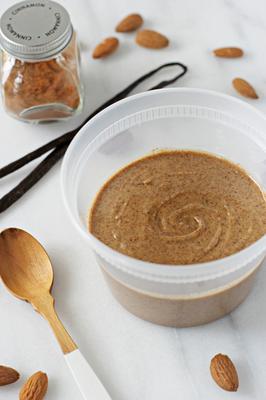 Vanilla Cinnamon Almond Butter
How to make Vanilla Almond Cinnamon Butter

Yield: 1 cup


Ingredients
2 teaspoons ground vanilla bean powder, or seeds from a vanilla bean
1 teaspoon ground cinnamon
1 1/2 cups almonds
1/2 cup pecans, or other nuts**
Pinch fine salt
Instructions
Add the almonds and pecans to your food processor or high speed blender.
Process until smooth and creamy like peanut butter
This may take about 5 minutes depending on your machine.
Add the vanilla, cinnamon and salt, and pulse to combine ingredients.
Store almond butter in a glass jar or airtight container
Notes
In place of ground vanilla bean powder you can use the seeds of a vanilla bean or vanilla extract.
Note that vanilla extract will give you a milder vanilla taste.
In place of the pecans, you can use more almonds.
AUTHOR: Adriana Harlan - LivingHealthyWithChocolate.com