Vanilla Chocolate Strawberry Milkshakes Recipe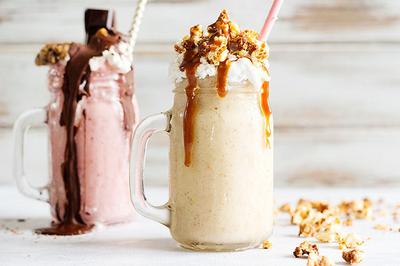 Vanilla Chocolate Strawberry Milkshakes
How to make Vanilla Chocolate Strawberry Milkshake

Prep Time: 5 m
Yield: 2 Servings


Ingredients
8 ounces Frozen Sweetened Strawberries in Syrup, thawed and pureed
1 cup Crushed Ice
1 cup Heavy Whipping Cream
2 cups Vanilla Ice Cream
Chocolate Syrup
Whipped Cream
Directions
In a blender, combine pureed strawberries, crushed ice, whipping cream, and vanilla ice cream until smooth.
Add a generous amount of chocolate syrup to the bottom of two glasses, tipping and turning the glasses to allow the chocolate to coat the bottom and the sides.
Fill glasses with the milkshakes and top with whipped cream.