Vanilla Buttercream Frosting /Icing Recipe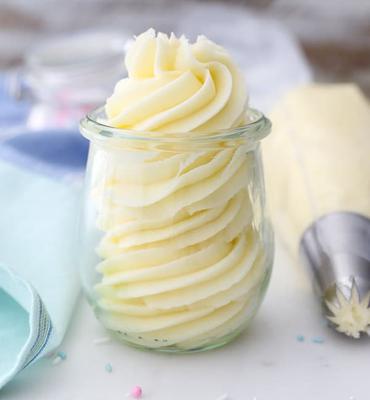 Vanilla Buttercream Frosting
How to make Vanilla Buttercream Frosting
Vanilla frosting
Vanilla Icing

For many people, cake is just the delivery vehicle for the real star of the show—the frosting. If you're tempted to agree, you'll love this five-star buttercream frosting recipe that takes any cake or cupcake from good to out-of-this-world.


Ingredients
3 cups powdered sugar
1/3cup butter, softened
1 ½ teaspoons vanilla,
1 to 2 tablespoons milk
Directions
In medium bowl, mix powdered sugar and butter with spoon or electric mixer on low speed. Stir in vanilla and 1 tablespoon of the milk.
Gradually beat in just enough remaining milk to make frosting smooth and spreadable. If frosting is too thick, beat in more milk, a few drops at a time. If frosting becomes too thin, beat in a small amount of powdered sugar. Frosts 13x9-inch cake generously, or fills and frosts an 8- or 9-inch two-layer cake.
Allow your butter to soften at room temperature so it easily beats up smoothly with the powdered (sometimes called confectioner's) sugar.
Notes
A real buttercream frosting takes little time to make, can be tinted with food coloring (use paste or gel, not liquid food color), and will hold up to one week if tightly covered and refrigerated.
Use a real vanilla; imitations are not recommended. If you can find a vanilla bean paste it's well worth the investment. The role of vanilla is not only for its flavor value, it also enhances the sweetness of the sugar, so bumping up the vanilla allows you to decrease the amount of sugar in recipes.
It's easy to vary the flavor of this core recipe: stir in a dash of almond extract or grated citrus zest.
About Frosting/Icing
Icing, or frosting, is a sweet, often creamy glaze made of sugar with a liquid, such as water or milk, that is often enriched with ingredients like butter, egg whites, cream cheese, or flavorings. It is used to cover or decorate baked goods, such as cakes or cookies. When it is used between layers of cake, it is called filling.
Icing can be formed into shapes such as flowers and leaves using a pastry bag. Such decorations are commonplace on birthday and wedding cakes.
Chef's colour dye (food colouring) is commonly added to icing mixtures to achieve the desired colour. Sprinkles, colouring mist, edible ink designs, or other decorations are often used on top of icing.
The simplest icing is a glacé icing, containing powdered sugar and water. This can be flavoured and coloured as desired, for example, by using lemon juice in place of the water.
More complicated icings can be made by beating fat into powdered sugar (as in buttercream), by melting fat and sugar together, by using egg whites (as in royal icing), by whipping butter into meringue (as in Italian or Swiss meringue buttercream), and by adding other ingredients such as glycerin (as in fondant).
Some icings can be made from combinations of sugar and cream cheese or sour cream, or by using ground almonds (as in marzipan).
Icing can be applied with a utensil such as a knife or spatula, or it can be applied by drizzling or dipping (see glaze), or by rolling the icing out and draping it over the cake. The method of application largely depends on the type and texture of icing being used. Icing may be used between layers in a cake as a filling, or it may be used to completely or partially cover the outside of a cake or other baked product.