Vanilla Body Butter Recipe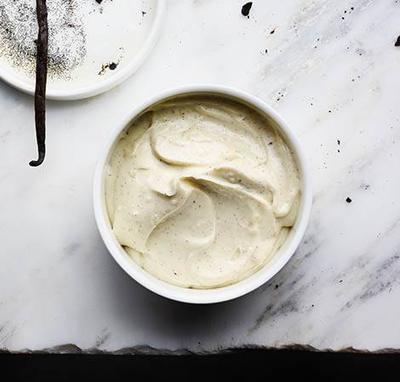 Vanilla Body Butter
How to make Vanilla Body Butter
Vanilla body lotion

Learn how to make this easy DIY vanilla body butter/Lotion for dry skin using all natural ingredients.

Category: Moisturize
Prep Time: 25 minutes
Active Time: 12 minutes
Total Time: 37 minutes
Cooling Time: 1 day
Yield: 1 Jar


Ingredients
2 tablespoons coconut oil measured solid
1 tablespoon shea butter
1.5 tablespoons beeswax pastilles
1 tablespoon jojoba oil +1/4 teaspoon
1-2 vanilla beans 20 drops vanilla oleoresin
Supplies
Double Boiler
Glass jar
Directions
In a double boiler, combine all ingredients except for the vanilla oil/beans. If you don't have a double boiler, you can use a heat proof jar in a pan of water.
If using a vanilla bean, slice the bean and scrape out the vanilla into the double boiler. Then, slice the bean into smaller pieces and place it into the double boiler too.
Bring the water to a rolling boil, stirring often until everything is melted and well combined (it takes about twelve minutes). Turn off the heat, and allow the contents the ingredients to infuse for 10-15 minutes so the vanilla beans can infuse.
Vanilla beans infusing in melted body butter ingredients
If the mixture has hardened, go ahead and heat it back up until it's liquid. Pour the mixture through a fine mesh sieve into a small glass jar.
If using essential oils, add the oils now and stir to combine. Allow the jar to sit on the counter for 24 hours to cool and harden.
Author: Chrystal Johnson, DIY Beauty