Vanilla bean lemonade Recipe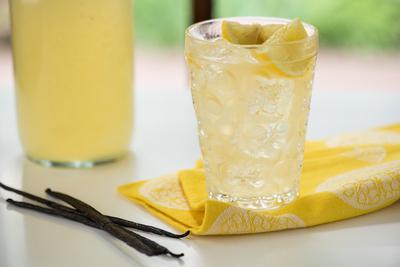 Vanilla Bean Lemonade
How to Make Vanilla bean lemonade

About Lemonade: Lemonade can be any one of a variety of sweetened or unsweetened beverages found throughout the world, but which are traditionally all characterized by a lemon flavor.

Most lemonade varieties can be separated into two distinct types: cloudy and clear; each is known simply as "lemonade" (or a cognate) in countries where dominant.

Cloudy lemonade, generally found in North America and South Asia, is traditionally a homemade drink using lemon juice, water, and a sweetener such as cane sugar or honey.

In the United Kingdom and Australia, clear lemonade, which is typically also carbonated, dominates.


Vanilla bean lemonade
Sweet-tart lemonade pairs perfectly with lush, creamy notes of vanilla.
Yield: 4-6
Prep Time: 5min
Cook Time: 15min
Total Time:20min
Ingredients
1/2 cup granulated sugar
1 cup + 3 cups water, divided
1 vanilla bean, sliced open and seeds scraped
1/2 cup fresh-squeezed lemon juice
Ice for serving
Directions
Add the sugar and 1 cup water to a medium saucepan over medium heat. Slice the vanilla bean open with a paring knife and scrape the "caviar" (seeds) from the bean and add to the saucepan along with the remaining whole bean.
Heat, stirring occasionally, until the mixture begins to steam and the sugar has dissolved, about 3-4 minutes.
Remove from heat and set aside for 15 minutes.
Meanwhile, add remaining 3 cups water and lemon juice to a pitcher. Set a fine-mesh sieve over the pitcher and pour in the vanilla/sugar mixture.
Discard solids.
Stir with a spoon and chill.
Fill individual glasses with ice and pour lemonade over the ice.
Add a straw if desired and serve.