Vanilla Bean Caramels Recipe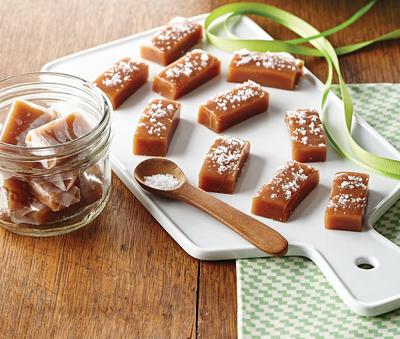 Vanilla Bean Caramels
A Caramel is a medium to dark-orange confectionery product made by heating a variety of sugars.
It can be used as a flavoring in puddings and desserts, as a filling in bonbons, or as a topping for ice cream and custard.

The process of caramelization consists of heating sugar slowly to around 170 °C (338 °F).
As the sugar heats, the molecules break down and re-form into compounds with a characteristic color and flavor.

A variety of candies, desserts, toppings, and confections are made with caramel: brittles, nougats, pralines, flan, crème brûlée, crème caramel, and caramel apples.
Ice creams sometimes are flavored with or contain swirls of caramel.


How to make Vanilla bean caramels
Soft Vanilla Bean Caramels
Total Time: 45 min
Yield: 2 pounds
Ingredients
2 1/2 cups sugar
2 cups heavy cream
3/4 cup light corn syrup
1 vanilla bean, split lengthwise and seeds scraped
1 stick unsalted butter, cut into tablespoons and softened
1/2 teaspoon kosher salt
Cooking Directions
Coat a 9-by-13-inch baking pan with nonstick cooking spray and line it with parchment paper, leaving 1 inch of overhang on each of the long sides.
In a large saucepan, combine the sugar with the cream, corn syrup and vanilla bean and seeds and bring to a boil. Cook over moderately high heat, stirring occasionally, until the temperature reaches 233° on a candy thermometer, about 13 minutes. Carefully whisk in the butter and salt and cook, stirring constantly, until the caramel is golden and reaches 244° on a candy thermometer, about 7 minutes longer. Carefully pick out and discard the vanilla bean. Immediately pour the hot caramel into the prepared pan and let cool at room temperature until set, at least 4 hours or overnight.
Holding the parchment paper overhang, transfer the cooled caramel to a work surface. Using a sharp knife, cut the firmed-up caramel into squares. Wrap each caramel in a square of parchment paper or a candy wrapper and twist the ends to seal.
Serve, store or gift the caramels. make ahead The caramels can be stored in an airtight container in a cool place for up to 1 week.