Vanilla Bean Cake Recipe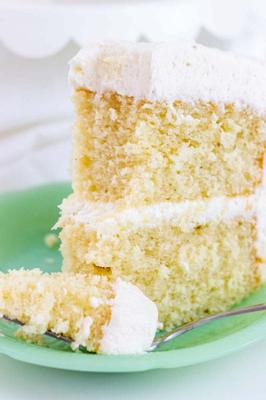 Vanilla Bean Cake
How to make Vanilla Bean Cakes

Moist and Delicious Vanilla Bean Cake recipe!


Ingredients
For the Vanilla Bean Cake
2 Sticks (226 g) unsalted butter, slightly softened
2 cups (400 g) sugar
3 large eggs, room temperature (you can add to warm water to bring to room temp)
1 cup (242 g) sour cream (we use full fat)
1/3 cup (81g) milk (we use whole milk)
1 Tablespoon plus 2 teaspoons Vanilla Bean Paste (you can substitute vanilla extract if you like)
3 cups (342 g) cake flour (plain in the UK)
3 teaspoons (12g) baking powder
1/2 teaspoon (4g) salt
For the Vanilla Bean Buttercream
3 sticks (354g) unsalted butter
9 cups (1035g) powdered sugar
3 teaspoons (12 g) vanilla bean paste (adjust amount to your liking)
1/2 to 1 teaspoon salt (optional to cut sweetness)
1/4 cup (60g) milk (adjust based on desired consistency)
Directions
For the Cake Layers
Preheat the oven to 350 degrees, grease and flour three 8 inch x 2 inch round cake pans. (You could use 2 cake pans for slightly thicker layers if you would rather, but we like the additional layer filling.)
In a medium sized bowl, add the flour, baking powder, and salt. Whisk to blend for 30 seconds. Set aside.
In another bowl or measuring cup, combine the sour cream, milk and vanilla
In the bowl of your mixer, beat the softened butter until smooth. Gradually add the sugar and beat on medium speed for 3-5 minutes until fluffy and lightened in color.
Add the eggs one at a time, mixing until the yellow of the yolk disappears.
Add the flour mixture and the sour cream mixture alternately, beginning and ending with the flour mixture (3 additions of dry ingredients, 2 of wet).
Mix until combined and smooth, do not mix above medium speed or over-mix.
Bake at 350 degrees for 25-28 minutes or until a toothpick inserted into the center comes out clean or with just a few crumbs attached. Let the cakes cool 5-10 minutes, then turn out.
Makes 7 cups batter. The recipe works well for cupcakes.
For the Vanilla Bean Buttercream
Cream the softened butter until smooth. Blend in the vanilla.
Add half of the powdered sugar and most of the milk. Beat at medium speed until the powdered sugar is incorporated.
Add remaining powdered sugar and milk and mix at medium speed another 3 to 4 minutes scraping the sides of the bowl occasionally. I slow down the mixer to very slow. (#2 on the Kitchenaid) for 1 to 2 minutes.
This will help eliminate air pockets in the buttercream. The texture will become very smooth.
Makes approximately 6 cups of frosting
Notes
Substitution for Cake Flour: If you have no cake flour, here is a substitution: For each cup of flour in a recipe, remove 2 Tablespoons of flour and replace with 2 Tablespoons cornstarch (cornflour in the UK).
This recipe has 3 cups of flour so you will measure out 3 cups of all purpose flour, remove 6 Tablespoons and replace with 6 Tablespoons cornstarch, whisk to blend.
Author: Melissa Diamond