Vanilla Bean Angel Food Cake Recipe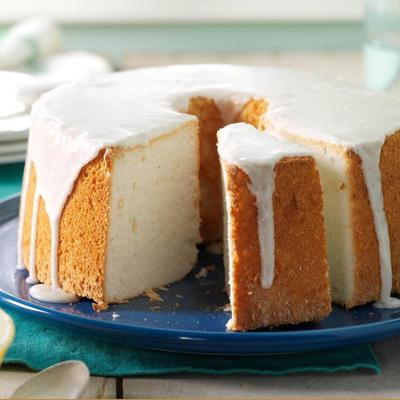 Vanilla Bean Angel Food Cake
How to make Vanilla Bean Angel Food Cake

Angel food cake is everyone's favorite blank slate for making awesome desserts. Serve it with a simple glaze or pile on fresh fruit, chocolate sauce or nutty sprinkles.


Ingredients
12 large egg whites (about 1-2/3 cups)
1 cup cake flour
1-1/2 cups sugar, divided
1 vanilla bean (see Editor's Note) or 1 teaspoon vanilla extract
1/2 teaspoon cream of tartar
1/4 teaspoon salt
Glaze:
2 cups confectioners' sugar
1 vanilla bean or 1 teaspoon vanilla extract
3 to 4 tablespoons 2% milk
Directions
Place egg whites in a large bowl; let stand at room temperature 30 minutes.
Preheat oven to 325°. In a small bowl, mix flour and 3/4 cup sugar until blended.
Add seeds from vanilla bean (or extract if using), cream of tartar and salt to egg whites. Beat on medium speed until soft peaks form. Gradually add remaining 3/4 cup sugar, 1 tablespoon at a time, beating on high after each addition until sugar is dissolved. Continue beating until soft glossy peaks form.
Gradually fold in flour mixture, about 1/2 cup at a time.
Gently transfer batter to an ungreased 10-in. tube pan. Cut through batter with a knife to remove air pockets. Bake on lowest oven rack 45-55 minutes or until top springs back when lightly touched. Immediately invert pan; cool completely in pan, about 1-1/2 hours.
Run a knife around sides and center tube of pan. Remove cake to a serving plate.
For glaze, in a small bowl, mix confectioners' sugar, seeds from vanilla bean (or extract if using) and enough milk to reach desired consistency. Spread glaze over cake, allowing some to drip down sides.
Note
To remove the seeds from a vanilla bean, cut bean lengthwise in half with a sharp knife; scrape out the dark, pulpy seeds.
Author: Leah Rekau, Milwaukee, Wisconsin