Vanilla Bavarian Cream Pie Recipe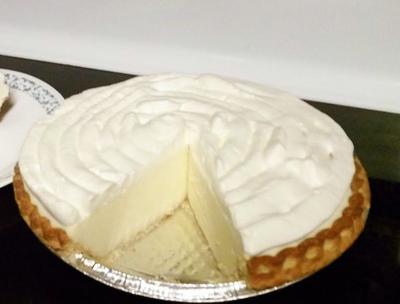 Vanilla Bavarian Cream Pie
How to make a Vanilla Bavarian Cream Pie

This pie is a delicate taste treat delight! Also good served with sliced strawberries.

Yield: 8 servings


Ingredients
1 1/2 (.25 ounce) packages unflavored gelatin
8 tablespoons cold water
9 tablespoons white sugar
2 1/4 tablespoons cornstarch
2 eggs
1 1/2 cups milk
3/4 cup vanilla ice cream
1 teaspoon vanilla extract
2 cups heavy whipping cream1 (9 inch) pie crust, baked
Directions
Soften gelatin in cold water. Scald the milk.
In a mixing bowl, mix together sugar and cornstarch. Add eggs and mix thoroughly. Add milk and softened gelatin, stirring constantly.
Cook custard in double boiler over hot water until it thickens and coats spoon. Remove from heat. Add ice cream while custard is hot. Cool thoroughly.
Add vanilla. Whip the cream, and fold 1 1/2 cups into cooled custard.
Pour filling into pie shell, and refrigerate until set. Garnish with remaining whipped cream.