Vanilla Banana Bread Recipe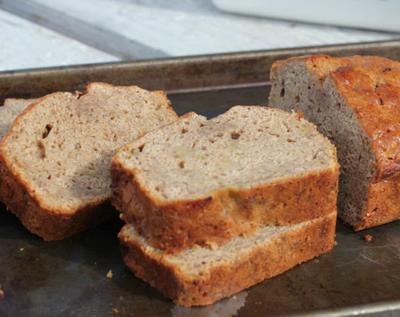 Vanilla Banana Bread
How to make Vanilla banana bread

Prep Time: hr 10 mins
Yield: 1 loaf Serves: 6-8


Ingredients
1 3⁄4 cups flour
1 teaspoon baking soda
1⁄2 teaspoon baking powder
1⁄4 teaspoon salt
1⁄2 cup butter (softened)
1 cup sugar
2 eggs
2 teaspoons vanilla
3⁄4 cup vanilla yogurt
2 very ripe bananas (mashed)
Directions
Sift together flour, baking soda, baking powder and salt. Set aside.
Cream butter and sugar until fluffy.
Beat in eggs one at a time.
Beat in vanilla.
Stir in bananas and yogurt.
Stir in dry ingredients just until moistened.
Bake in greased and floured 9x5 loaf pan at 350 degrees for approximately one hour.