Vanilla Almond Pancakes Recipe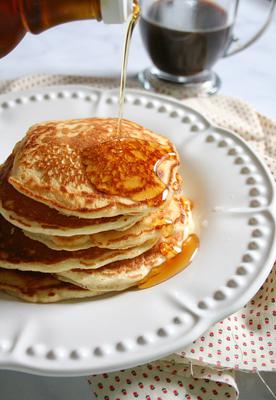 Vanilla Almond Pancakes
How to make Vanilla Almond Pancakes

Light and fluffy pancakes prepared with Greek yogurt and topped with fresh granola make the perfect weekend breakfast!


Ingredients
For the granola:
2 and 1/2 cups old-fashioned rolled oats
3/4 cup slivered or whole almonds
1/2 tsp ground cinnamon
Pinch salt
1/2 cup pure maple syrup
1/4 cup melted coconut oil or butter
1/4 tsp. almond extract
1 Tbsp vanilla extract
For the pancakes:
1½ cups all purpose flour (or whole wheat flour)
2 tsp. of baking powder
2 Tbsp sugar
½ tsp. salt
2 Tbsp. oil
2 eggs
1 tsp vanilla (or ½ teaspoon almond extract)
¾ cup plain greek yogurt (or vanilla greek yogurt)
¾ cup milk
Vanilla Almond dip
Directions
Prepare the granola by tossing together the oats, almonds, cinnamon and salt in a large bowl. Add in the maple syrup, coconut oil (or butter), almond and vanilla extracts and stir well to coat the granola.
Lay out the mixture onto a parchment lined baking sheet and bake at 300 degrees F for 45 minutes. Meanwhile, prepare the pancake batter by stirring together the flour, baking powder, sugar and salt in a large bowl.
Add in the oil, eggs, vanilla, Greek yogurt and milk and stir until the dry ingredients are just moistened. There should be a few lumps.
Heat a large griddle to medium-high heat and grease the surface. Pour ¼ - ½ cup of batter onto the griddle and cook for 2-3 minutes on each side, until they are golden brown.
Plate the pancakes and top with a drop of Vanilla Almond dip and some of the granola.