Suzuki Escudo
by Edwin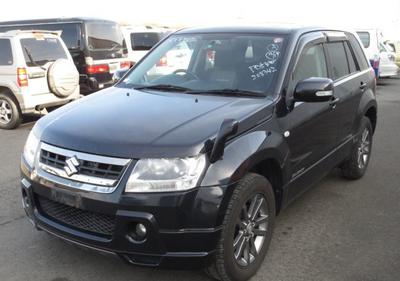 The Suzuki Vitara is a compact SUV produced by Suzuki in four generations since 1988. The second and third generation models were known as the Suzuki Grand Vitara, with the fourth and current series eschewing this prefix. In Japan and a number of other markets, all generations have used the name Suzuki Escudo.


Before you buy a Suzuki Escudo in Uganda
The Suzuki Escudo 3rd generation of its kind counting from the 1st model introduced in 1988 as one of the first Compact SUVs (Sports Utility Vehicle) in the world has two outstanding characteristics carried over from the 1st generation; full-time 4-wheel drive with independent suspension system as all-round multi-purpose vehicle.
The engines are 2.0 liter (CBA-TD54W) in-line-4-cylinder or V6 2.7 liter (LA-TX92W) gasoline-powered with variable induction system. The transmission has two choices 5-speed manual or 4-speed automatic.
Thanks to its suspension and 4-wheel drive train, which gives owners opportunities to enjoy driving both on tarmac and gravel roads.
Here in Uganda, the Suzuki escudo is one of the common compact SUVs in the market.
Government ministries and other non- government organizations have picked enough interest in the escudo.
Click
here to buy a Suzuki Escudo
in Uganda
Buying a Suzuki Escudo from a Ugandan car bond
In case you're to buy a foreign used Suzuki escudo from Japan you may have to pay averagely about $ 1,300 – $10,000 and more depending on the condition of the car, model, car dealer you use and year of manufacture.
This quoted price typically does not include Freight to Mombasa port and transportation from Mombasa port to Uganda. Additionally, it excludes taxes charged by the Uganda Revenue Authority which include Import Duty, Value added (VAT), Withholding Tax, Environmental Levy, Infrastructure Levy, and Registration Fees.
For example older models which are locally used can be got on the market costing 5,500,000/- while new models can cost up to 50,000,000/-. While in the bond, you can get a fully registered escudo or one that is not.
Click
here to buy a Suzuki Escudo
in Uganda
Common problems owners of Suzuki Escudo encounter while in Uganda
The 2006 Suzuki Escudo has the most overall problems. Some of these problems include lights problems, driving train problems, brakes problems, A/C or heater problems, seat belt/ airbag problems among others. These have been considered to the common escudo problems the owners report.
Click
here to buy a Suzuki Escudo
in Uganda
Other alternatives available in Uganda similar to the Suzuki Escudo
The best alternatives include Skoda Yeti, Mitsubishi ASX, Renault Captur and Honda CR-V
Briefly about the interior of a Suzuki Escudo
The interior of the new Suzuki Vitara has some neat touches, but some plastics look and feel cheap.
The overall build quality of the interior is good, with only minor problems.
The plastic panel across the dash (available in a variety of colours) is a nice addition and there are soft-touch materials dotted around, such as on the door handles.
However, the majority of plastics are hard and scratchy, which could put more discerning buyers off.
There's plenty of headroom for all occupants in the Vitara, despite its sporty roofline.
The Vitara's boot has a capacity of 375 litres. Drop the 60:40 split-folding rear seats down and this expands to 1,160 litres.
This is pretty much the same size as the Renault Captur's boot, but beats the updated Nissan Juke, which offers 352 litres of luggage space.
Click
here to buy a Suzuki Escudo
in Uganda
Final Verdict
The Suzuki Escudo may be far removed from the cars that debuted their badges last millennium, but with more conventional styling and packaging and loads more equipment, the new model is on the radars of far more shoppers than its predecessor could ever have dreamed.