Strawberry Vanilla Bread Recipe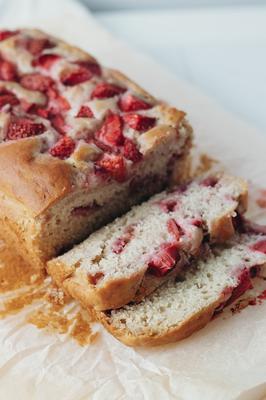 Strawberry Vanilla Bread
How to make Strawberry Vanilla Quick Bread

This Strawberry Vanilla quick bread is a moist, delicious treat perfect for breakfast, brunch or any other time of the day!

Prep Time: 15 min
Cook Time: 50 min
Total Time: 1 hr, 5min


Ingredients
2 (10 oz.) pkg. frozen strawberries, thawed and cut into small pieces
1 1/4 c. vegetable oil
2 c. sugar
4 eggs
1 Tbsp. vanilla
3 c. flour
1 tsp. salt
1 tsp. baking soda
For Glaze:
1 c. powdered sugar
2 tbsp. milk
1/4 tsp. almond extract
Directions
Preheat oven to 350 degrees. In two 9x5" loaf pans, spray with nonstick spray, and line the bottoms with waxed paper.
In a large mixing bowl, combine strawberries, eggs, oil, sugar and vanilla. In seperate bowl, combine flour, salt and baking soda. Wisk together to combine. Gradually stir the dry ingredients into the wet until completely combined.
Pour batter evenly into the two loaf pans. Bake at 350 for 50-55 minutes or until toothpick inserted comes out clean.
When finished baking, let cool in the pans for 5-10 minutes. Run a knife around the edges of the pans to loosen, then invert to take the loaves out of the pans. Remove the waxed paper from the bottoms. Cool the loaves on a rack.
For the icing, combine powdered sugar, milk and almond extract. Stir until completely combined. Drizzle over the tops of the loaves. Slice and serve. Store in a cool dry place.
Enjoy!