Saffron-Vanilla Snickerdooles Recipe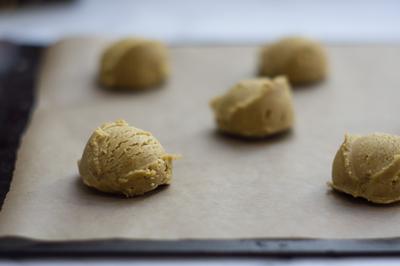 Saffron-Vanilla Snickerdooles
How to make Saffron-Vanilla Snickerdooles

Yield:9 large cookies

Saffron is often used in savory cuisine.

In sweet applications, there's a fine line between just right and too much.

When the amount of saffron is correct, the cookies should be subtly yellow in color with a clean honey taste that doesn't necessarily come across as saffron.

Note: While this recipe is very simple to make, the dough requires a few hours to firm up in the refrigerator before baking.

About 30 threads of saffron (to yield ⅛ teaspoon ground saffron)


Ingredients
½ vanilla bean (or, an additional ½ teaspoon vanilla extract)
2 tablespoons milk
2 cups (9.9 oz / 280 g) all-purpose flour
1 teaspoon baking soda
½ cup (4 oz / 113 g) unsalted butter, at room temperature
½ cup (3.5 oz / 100 g) granulated sugar
½ cup (3.8 oz / 109 g packed light brown sugar
1 teaspoon kosher salt
1 egg, at room temperature
½ teaspoon vanilla extract
Directions
Crush the saffron threads with a mortar and pestle until powdery, or grind them in a clean spice grinder. Alternatively, you can finely mince the saffron. The finer the powder, the more intense the saffron color and flavor in the cookies.
If using, split the vanilla bean in half and scrape the pulp into a small saucepan. Add the vanilla pod, milk, and saffron. (Otherwise, add ½ teaspoon vanilla extract to milk.)
Cook over very low heat, just until bubbles begin to form at the edges—between 180℉ and 190℉ (82℃ to 88℃). Cover and let steep for about 10 minutes; the milk should have a sunny yellow color.
Sift the flour and baking soda into a medium bowl.
In the bowl of a stand mixer fitted with the paddle attachment, beat the butter on low speed until smooth, 1 to 2 minutes. Add the granulated sugar, brown sugar, and salt. Mix on low speed until well combined. Scrape down the sides of the bowl, then mix on medium speed until light and fluffy, 4 to 5 minutes.
Remove the vanilla pod from the milk, squeezing off any liquid or pulp clinging to it back into the milk. In a medium bowl, combine the milk mixture, egg, and vanilla extract. Whisk vigorously until well blended.
With the mixer on medium speed, add the egg mixture very slowly, in a steady stream. Mix until very smooth, about 30 seconds. Scrape down the sides of the bowl, then mix on medium speed for 30 more seconds.
Scrape down the sides of the bowl, then add the flour mixture. Mix on low speed just until uniform in texture.
Using a rubber spatula, scrape the dough out into an airtight container or onto a piece of plastic wrap. Cover the container. Or, if using plastic wrap, shape the dough into a rough disk, wrap tightly, and refrigerate for at least 3 hours and up to 5 days.
Preheat the oven to 350℉ (175℃). Line a baking sheet with parchment paper or silicone mat.
Roll ¼-cup (60 ml) portion of the dough into balls, and place them on the baking sheet at least 2 inches (5 cm) apart.
Bake for about 16 minutes, until golden but not too dark, rotating the pan midway through the baking time. Ideally, the baked cookies will be tall and slightly undercooked in the center, and will buckle shortly after coming out of the oven. If the cookies don't collapse, don't worry—they'll still be delicious.
Let the cookies cool on the pan for 10 minutes before removing.
These are best when eaten warm.
However, the cookies can be stored in an airtight container at room temperature for up to 2 days. Alternatively, the dough can be refrigerated in an airtight container for up to 5 days.
Consider baking only as many cookies as are needed, saving the rest of the dough to bake another day.