Raspberry-Laced Vanilla Cake Recipe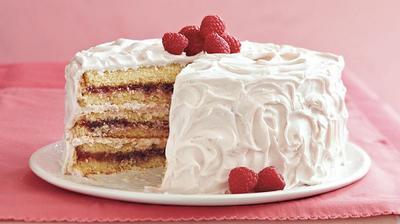 Raspberry-Laced Vanilla Cake
How to make Raspberry vanilla cake

Prep Time: 25min
Total Time: 2hrs 5min

Yield: 16 Servings

Multiple layers of raspberry and raspberry buttercream make this cake a showstopper. For a stunning cake of your own, just follow a few simple techniques!


Ingredients
Cake
2 2/3 cups all-purpose flour
3 teaspoons baking powder
1/2 teaspoon salt
1/4 teaspoon baking soda
1 1/2 cups butter or margarine, softened
1 1/4 cups granulated sugar
2/3 cup milk
1 1/2 teaspoons vanilla
4 eggs
1 cup seedless raspberry jam
Frosting
1 cup butter or margarine, softened
3 cups powdered sugar
1/2 cup raspberry-flavored liqueur or raspberry syrup for pancakes
1/2 teaspoon vanilla
Chocolate leaves, if desired
Directions
Heat oven to 350°F. Grease bottoms and sides of 3 (9-inch) round cake pans with shortening; lightly flour. In small bowl, mix flour, baking powder, salt and baking soda; set aside.
In large bowl, beat 1 1/2 cups butter and the granulated sugar with electric mixer on high speed, scraping bowl occasionally, until fluffy. On medium speed, beat in flour mixture, milk, 1 1/2 teaspoons vanilla and the eggs until blended. Beat 2 minutes longer. Pour evenly into pans.
Bake 25 to 30 minutes or until toothpick inserted in center comes out clean. Cool 10 minutes; remove from pans to cooling racks. Cool completely, about 1 hour.
In medium bowl, beat 1 cup butter and the powdered sugar on medium speed until smooth. Gradually beat in liqueur and 1/2 teaspoon vanilla until smooth and spreadable.
Cut each cake horizontally to make 2 layers. (Mark side of cake with toothpicks and cut with long, thin serrated knife.) Place 1 layer, cut side up, on serving plate; spread with 1/3 cup raspberry jam to within 1/4 inch of edge. Top with another layer, cut side down; spread with 1/3 cup frosting. Repeat with remaining layers.
Frost side and top of cake with remaining frosting. Pipe frosting on top of cake if desired. Garnish with chocolate leaves. Store loosely covered.
Notes
If you only own 2 round cake pans, cover and refrigerate 1/3 of the batter while the other two layers bake. Remove the baked cakes from the pans and wash the pan before you bake the last layer.
For a quick garnish, top this pretty pink cake with fresh raspberries.
Fresh edible flowers make a beautiful decoration to this cake when raspberries aren't available.
About Raspberry
The raspberry is the edible fruit of a multitude of plant species in the genus Rubus of the rose family, most of which are in the subgenus Idaeobatus; the name also applies to these plants themselves.
Raspberries are perennial with woody stems.
Raspberry Fruits: Raspberries are grown for the fresh fruit market and for commercial processing into individually quick frozen (IQF) fruit, purée, juice, or as dried fruit used in a variety of grocery products such as raspberry pie. Traditionally, raspberries were a midsummer crop, but with new technology, cultivars, and transportation, they can now be obtained year-round. Raspberries need ample sun and water for optimal development.
Raspberries thrive in well-drained soil with a pH between 6 and 7 with ample organic matter to assist in retaining water.
While moisture is essential, wet and heavy soils or excess irrigation can bring on Phytophthora root rot, which is one of the most serious pest problems facing the red raspberry.
As a cultivated plant in moist, temperate regions, it is easy to grow and has a tendency to spread unless pruned.
Escaped raspberries frequently appear as garden weeds, spread by seeds found in bird droppings.
An individual raspberry weighs 3–5 g (0.11–0.18 oz), and is made up of around 100 drupelets, each of which consists of a juicy pulp and a single central seed.
A raspberry bush can yield several hundred berries a year.
Unlike blackberries and dewberries, a raspberry has a hollow core once it is removed from the receptacle.
Raspberry Nutrients: Raw raspberries are 86% water, 12% carbohydrates, and have about 1% each of protein and fat
In a 100 gram amount, raspberries supply 53 calories and 6.5 grams of dietary fiber.
The aggregate fruit structure contributes to raspberry's nutritional value, as it increases the proportion of dietary fiber, which is among the highest known in whole foods, up to 6% fiber per total weight.
Raspberries are a rich source (20% or more of the Daily Value, DV) of vitamin C (32% DV), manganese (32% DV) and dietary fiber (26% DV)
Raspberries are a low-glycemic index food, with total sugar content of only 4% and no starch.