How to grow PEACE LILIES in Uganda

ad. Buy Grade A Premium Uganda Vanilla Beans  for Export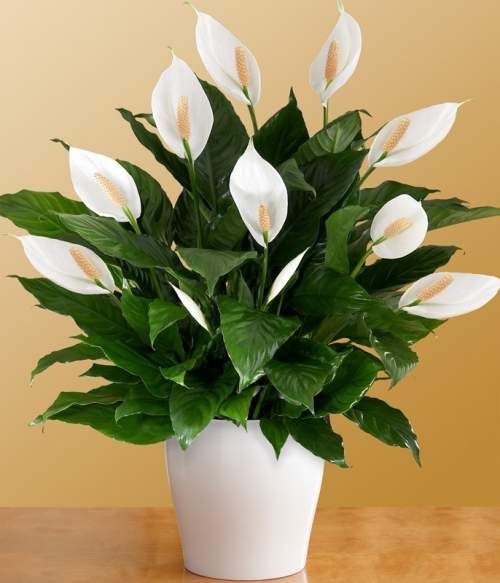 Peace Lily in Uganda
Peace lilies are foliage plants mainly grown for their showy white hooded flowers. 
The plant grows into glossy, dark green oval leaves that narrow to a point directly rising from the ground. 
When looking for that fleshy eye catching lawn or indoor plant, a Peace lily plant can never disappoint.
Common Peace Lily varieties grown in Uganda
There are a number of cultivars grown and they include;
Flower power- grown for their large pure white blooms
Lynise - this type is mainly grown for its fast growing abilities to give many flowers.
Other cultivars grown are sensation, Starlight, Supreme, Wallissii, and Mauna Loa
Contact us here to buy Peace Lily Seedlings in Uganda

Soil requirements for growing Peace lilies in Africa

Peace lily plants will flourish in almost any well draining humus reach soils. To prepare a potting mixture, mix garden soil and compost in the ratio of 3:1 per container.
How to propagate Peace lilies in your home
The peace lily plant is vegetatively propagated using its rhizomes from a parent plant.
Contact us here to buy Peace Lily Seedlings in Uganda

How to plant Peace lilies in Africa

If you can identify a peace lily mother plant you are good to go as this will spare you money on buying a seedling. 
Cut the rhizome (the downer budded stems) into pieces using a sharp sanitized pruning shear or sharp knife. 
However, caution should be taken that each rhizome cut at least has a bud. 
In a container filled with potting soil mixture, make a drill and place in a rhizome division. 
Sprinkle some water in the container to keep the soil moist, to facilitate fast sprouting place the container in a warm location with indirect light.
Contact us here to buy Peace Lily Seedlings in Uganda

About grooming and uses of Peace lilies

The only grooming for peace lily would be pruning excess dry leaves, and also controlling mealy bugs; they are the commonest pests on the plant. 
If the lily plant is used as an ascent indoor, you would need to clean the wide leaves regularly using a damp cloth to remove dust.
Contact us here to buy Peace Lily Seedlings in Uganda

Quick Tips for planting a peace lily plant in Uganda

We are to focus on raising an indoor or shade peace lily plant.
Prepare a container filled with garden soil mixed with a portion of compost.
Acquire your rhizomes for planting from an available peace lily plant.
If you can't access one you can go ahead and purchase a healthy seedling from the nursery.
Place the rhizome in the container with the budded side facing up.
Then thinly cover with soil and splash with some water.
In about two months the rhizomes will root and show new growth.
Alternatively you can just pot the new seedling in the pot as it is.
The most important grooming routines are watering but not to soak, pruning and pest control.
Contact us here to buy Peace Lily Seedlings in Uganda

Have a Question or Great Story About This Plant Guide?
Do you have a Question or Comment about this plant Guide? Then Share it!
Haven't yet found what you Want...?
If you haven't yet found what you were looking for or you need detailed information about the subject matter on this page

then...

feel free to ask our business travel consultants.