Passover Vanilla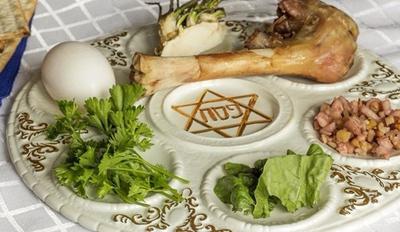 Passover Cooking
On Passover it is forbidden to eat leavened grain.
Regarding Passover the Torah states "In the first month on the fourteenth day in the evening you shall eat Matzah…
No leaven shall be found in your house for seven days."
The grains that are restricted on the holiday are the five species mentioned in the Bible, wheat, oats, spelt, barley and rye.

On Passover the only form of the grains that can be eaten is in the form of matzah, which is made through a careful process to prevent leavening.

Ashkenazi Jews, Jews of Eastern European descent, also avoid kitniyot on Passover, a category that includes legumes, corn, rice and their derivatives.

There are some people who hold the additional stringency of not eating anything made with moistened matzah, in case there is some flour that remained unmixed that might mix with the water in the recipe and rise.

This mixing is called gebrotz, and all the recipes on my blog that do not contain matzah meal are labeled as non-gebrotz.

For many people, all processed ingredients used in Passover cooking and baking need to be specifically certified kosher for Passover.

Therefore things that might not inherently be prohibited (like packaged coconut milk or coconut flour) still can't be used on Passover in a strictly kosher kitchen.

In the past few years Kosher for Passover real vanilla extract has emerged on the market. If that is unavailable we would not recommend using the artificial Vanilla Extract.

Instead, bury a vanilla bean in a jar of sugar for a few days and then use a few tablespoons of the scented sugar in place of regular sugar in a recipe. Or, if you are feeling decadent just use the scrapings from the inside of real vanilla beans in the recipe.

You may also just buy Vanilla Extract that is Kosher Certified.


About Kosher Certification
A kosher certification agency is an organization that grants a hechsher ( Seal of Approval) to ingredients, packaged foods, beverages, and certain materials, as well as food-service providers and facilities in which kosher food is prepared or served.
This certification verifies that the ingredients, production process including all machinery, and/or food-service process complies with the standards of kashrut (Jewish dietary law) as stipulated in the Shulchan Arukh, the benchmark of religious Jewish law.
The certification agency employs mashgichim (rabbinic field representatives) to make periodic site visits and oversee the food-production or food-service process in order to verify ongoing compliance.
Each agency has its own trademarked symbol that it allows manufacturers and food-service providers to display on their products or in-store certificates; use of this symbol can be revoked for non-compliance.
A kosher certification agency's purview extends only to those areas mandated by Jewish law. Kosher certification is not a substitute for government or private food safety testing and enforcement.