Mulamuzi HERBERT - correctional lessons and experiences - Former death row inmate in Uganda Government Prisons 1999-2020
by JONATHAN MUGERWA, WhatsApp:+256780555355, +256754705208 . Email: jonathanmugerwa3@gmail.com
(KAMPALA, UGANDA)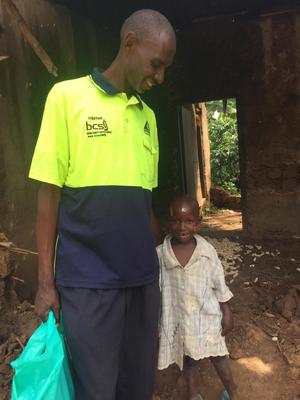 Mulamuzi HERBERT a.k.a Kabaza JACKSON with Yvvone
My correctional lessons and experiences
Mulamuzi HERBERT AKA KABAZA JACKSON
Former death row inmate in Uganda Government Prisons
1999-2020

I was born in Bwooma, kitagata, Sheema district on 1st June 1974, I started school 198, and joined Uganda Police Force 1994. I lost my mother in 1989 and brought was brought up by my grandmother.

In police I worked for 4 years and 1998, I was arrested on a fraud charge, I was an armory man issuing guns as my routine duty not knowing that one of my colleague had a mission. He went and robbed using a gun signed from me, he was arrested and after one week in custody, I was arrested that I knew his case questioning me why I gave him a gun. On 12th may 1998.

I was taken to court and charged of robbery case with him and his friend after 12 months I was committed to high court and on 26/01/2020 was sentenced to death by high court Judge. I had a wife with two Kids a girl and a boy of 3 yrs. and 1 yr. I was taken to condemn section where death row in mates stay. I stayed on death row for 13 yrs.

In 2013, I went to court of appeal and my sentence was substituted with 30years in prison and I was removed from death row (condemned section) to a prison where in mates serving sentence stay. In prison I was told that my grandmother who brought me up died in 2005 after her death my uncle, young brother to my dad took advantage demolished my house and sold off my house holds and grabbed mu piece of land, my former wife ran away for her life together with her children. Upon hearing this I lost hope knowing that am finished. I lost contact from my people and stayed in prison visit less.

In 2019 July I was again called for my appeal by court of appeal and convicted 16 years but I had already spent 21 years and prison authority set me free after court.

I came out of prison but no were to go because my family had left me many years ago. I had a friend of mine ex- prisoner Johnathan Mugerwa whom I meet in prison, he called me and allowed me to stay with him in his small rented room in one of the slums of Kampala since also was in prison for 15 years, he had nothing to do, he is struggling with life, last year 2020 in April, I went home, to look for my children and to see my relatives, when my uncle who demolished and took away land saw me, he said that he doesn't want to see me, I returned to my friend Johnathan for my dear life.

That's where I stay, no job, no money, am just struggling with life and living a helpless life, I learnt that my children were taken by their mother.