MERRY CHRISTMAS FOR UGANDA 2019 for Inmates; families
by JONATHAN MUGERWA, WhatsApp:+256780555355, +256754705208 . Email: jonathanmugerwa3@gmail.com
(P.O Box 37626 KAMPALA, UGANDA)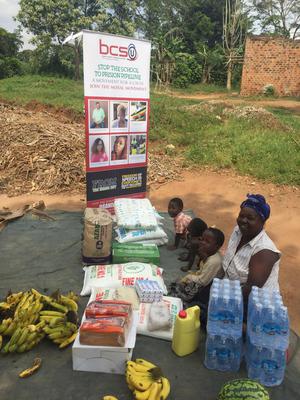 Food Donations we presented to the Victims of Crime, Violence and incarceration presented to Buwambo Community in 2019
MERRY CHRISTMAS FOR UGANDA 2019.

Christmas Party 2019.
By knowing exactly how much time we have remaining to complete a task, instead of stressing about it, we will be able to better allocate our time. In fact, a 100-day countdown also acts as a secondary motivator and reinforces us, the Team End The School To Prison Pipeline Uganda, to complete our Christmas tasks before the big day.
Join us and make this holiday party an absolute success.

Share the Spirit of generosity by giving back during Christmas
Giving back is an important part of the festive season for many of us.

In other words, our brains are hardwired to think of the months ahead of Christmas as a chance to buy gifts, arrange children trip to Kampala the Capital City of Uganda, to put up the Christmas tree and other decorations, remember the Incarcerated individuals and to schedule Christmas parties.

Most importantly, we use this time to get together with family, friends, and colleagues we haven't seen all year over good food, drinks, worship music, photos and stories, just like how our ancestors did. Probably the reason why this tradition has been successfully passed on from generation to generation.

I asked our children about their past experience regarding Christmas seasons they couldn't have a convincing history of what it has to be.

Huge thanks to our Team on Facebook for highlighting the Christmas season for our children in Uganda. It's going to take a different trend 2020.

You may wish to stand with us and make this party a fantastic one by sending a gift or by contributing a pitch of say $5, it's really appreciated and will be utilized to put a smile to the lips of the children that season.
May God bless you'll.
Jonathan Mugerwa.

Buena Charity Services Uganda,
P.O Box 37626 Kampala,
Uganda, East Africa.



Your generous donations will go towards buying meaningful food and drinks, hiring Entertainers, tents, buying gifts for the children and their mothers.
Share the spirit of generosity by giving back during Christmas
Giving back at Christmas is an important part of the festive season for many of us. But at this difficult time of year 2020, it can be difficult to find the time, or the money, to give back in a meaningful way. Here at Buena Charity Services Uganda, we know that Christmas donations for needy families can truly make a life-changing difference. And this holiday season, you have the power to make that change happen in the children's' lives and their families.
When you donate to charity for Christmas you can help provide opportunities for vulnerable families to thrive. That could be through supporting their education and training, helping provide access to clean water, nutritious food and adequate healthcare, or improving opportunities for employment. Charity giving at Christmas is also a fantastic opportunity to teach your family about the true spirit of Christmas and the importance of giving instead of receiving.
This Christmas, we want to make helping charities at Christmas easy and affordable.

Choose how to help:
Help protect Children affected by the Covid-19 Pandemic
Conflict and natural disaster events force millions of families to flee their homes each year. While on the road or living in shelters, children can be especially vulnerable to life-threatening illnesses such as diarrhea and cholera. For just $50, you could provide one child with a hygiene kit to help protect against disease.
Thinking about giving back to the community at Christmas but want to make sure your gift creates sustainability in lives?
Give the gift of women's empowerment
Buena Charity Services Uganda, we believe in empowering people to create their own change thru Entrepreneurship Skills. And that's what you'll do when you help a woman create her own small business for just $50. She'll have the chance to learn new skills, create jobs in her community and provide for her family. Now that's lasting change!
Support families to build and own resilient livelihoods
If you're looking for Christmas donations for families in need, you surely can't go past the gift of improved access to jobs and food. From $50, you can help families living in poverty build better lives through things like training to increase food production and improve their children's nutrition.

Provide a family with a she Goat, chicken, or a Cow, or a piglet to help them thrive
Don't be a boar this Christmas – choose the gift of a piglet to go under your tree! At just $30, one piglet can make a world of difference for a struggling family by helping them to grow a small business that will provide an ongoing source of income and help build brighter futures for their children.
Whether you want to make a charity donation in lieu of Christmas gifts or simply make giving back part of your family's year end tradition, your charity at Christmas will help make a world of difference! And while there might be a long list of charities to donate to for Christmas, when you choose Buena Charity Services Uganda, you're choosing a charitable organization thriving to building lasting change for kids and communities in need.



Buena Charity Services Uganda is committed to high standards of accountability and transparency.
Our Commitment:
Your gift is a sacred trust. We promise to honor your generosity and use your donation in the most effective way possible. The gift options shown reflect World Vision projects and the suggested donation amounts are based on periodic surveys of the countries we serve. Each item is representative of the gift category in which it appears, and donations will be used to provide assistance within that gift category where it is needed most. When you give any animal gift, a portion of the gift may also help provide watering sources, farming assistance, hunger relief, and other related essentials as needed.
The multiplying effect from grants and donated goods may change throughout the year on identical or similar offers due to variations in the start and end dates of donor grants and our programs.