Low Carb Vanilla Pudding Recipe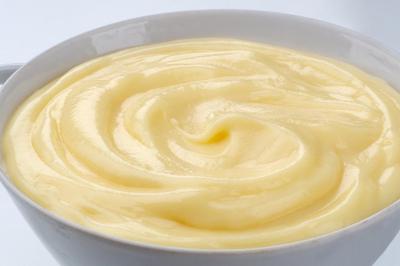 Low Carb Vanilla Pudding
How to make Low Carb Vanilla Pudding

Enjoy homemade vanilla pudding like grandma used to make! This easy comfort-food recipe is sugar-free and perfect for any low carb and ketogenic diet.

Prep Time: 5 minutes
Cook Time: 10 minutes
Total Time: 15 minutes
Yield: 6 Servings


Ingredients
Simmer
1 cup heavy cream
1/2 cup almond milk
Whisk Together
1/3 cup Sukrin 1 (or Swerve Granulated)
1 tablespoon cornstarch
1 pinch salt
2 large eggs
3 large egg yolks
Add at the End
1 teaspoon vanilla
1/4 teaspoon stevia glycerite
2 tablespoons butter
3/4 teaspoon gelatin powder "bloomed" in 1 tablespoon water
A sieve that fits over a medium heat proof bowl
Directions
Bring the heavy cream and almond milk to a simmer in a small pot over medium heat.
Place the dry ingredients (erythritol, cornstarch, and salt) into a medium heat proof bowl and whisk together. Add the egg yolks and whisk. Whisk in the whole eggs. Ready the sieve near the bowl. Sprinkle the gelatin over the tablespoon of water.
When the cream is hot and bubbling around the side of the pot, slowly pour it into the egg mixture whisking continuously until fully incorporated. Pour the mixture back into the pot and place over medium low heat. (Once you become familiar with making pudding you can do it over medium heat, adjusting up and down as needed.)
Continuously whisk the mixture for the next 5 minutes, until it begins to thicken all-at-once. Turn the heat down a tad and continue to whisk for 1-2 minutes. The mixture should very slowly simmer if whisking is stopped. Remove from heat and whisk for 1 minute more. Place the sieve over the bowl and pour the pudding through the sieve to catch any bits of egg that may have cooked.
Whisk in the butter, vanilla, and stevia glycerite. Taste and adjust sweetness per your liking. Add the gelatin and whisk again until it's completely melted and incorporated.
Cover with plastic wrap by pushing it right down onto the surface of the pudding. Chill at least 8 hours.
Before serving, whip the pudding with a hand mixer so it is lighter in texture.
Serve.
Author lowcarbmaven.com