Jonathan's soul searching story as an In-mate in Uganda
by Jonathan Mugerwa
(Kampala , Uganda , Africa +256780555355)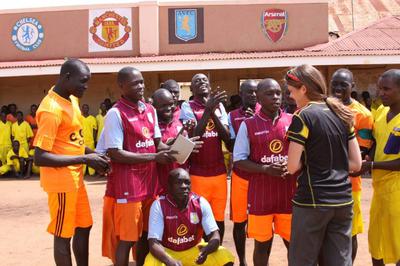 Jonathan (Squatting at the Forefront) of Ashton Villa FC , Luzira Prison Uganda Africa
I have a pretty good idea of what is going on in Security Housing Units (SHU), Prisons, Jails, correctional centers and any other form of detention facility.

I was arrested on November 22, 2005 following the death of one Stephen Mpagi in Mpererwe Namere Zone. He was killed by an hungry mob that suspected him to be a robber.

I spent about 3 years on remand waiting for trial.

I was tried by Justice Caroline Akello on the 10/06/2008.

I was a prisoner No. 221-2008 while in Luzira maximum security prison.

I will never forget the punitive and correctional experiences of that prison facility. But use them to guide the youths before they enter the Justice system and to help decongest prisons.

l thank God that am no longer a Number. His grace protected me while in prison and freed me. He kept on reminding me that my Grace is sufficient in times of ones weaknesses.

I served 11 years Nov/2005-2016 not a longtime by most inmate standards but long enough to know the hopelessness and desperation prisoner's experience.


The torments of Prison you wouldn't want to face
Life in prison was characterized with the following;
Racial tensions, Lack, loneliness (terrible aloneness), fights, abrupt transfers, search all the time, to limit the belongings. (clothes, books etc.
The other problem is Congestion, e.g. sleeping 4 people in a room of 8x9 feet's was hard to bear.
I was always worried about the weeping of my son Jeremiah through whom l left with 5years in 2005 with a jobless mother Nansemba.
No single day went by that l didn't anguish for them and worry about them. I heard zero control over all things. Tied up in prison.
I felt utterly helpless. It was made all the worse by the prison officers of the punitive-code. They told me "go in", "don't write small cheats", mind about your own business and do your time the way you did your own crime". I`d come on a case whose maximum punishment is suffering death by hanging. I felt life come to an end. No single day was a walk over. I lost a lot of written stories and photos.
Everything that I read worried me and predicted a wrong destiny for me. Thus, escalating more terror in my life. Some notes had been written by the executed inmates, as wiles to their relatives and had not been delivered.
It is sometime difficult to see that God is paying even the slightest attention when our lives are a mess, l mean where is He, exactly, when you really need Him? During times of turmoil and tragedy?
I know l did not think God was so great when trials delayed or intensified or No way was God good when my friends deserted me and my girlfriend went away with another man, leaving an emptiness in my heart, I could never understand. I felt giving up on God but He did not give up on me. He did not treat me as my sins required. I loved material things and practically they consumed me, l was so very lost. "I turned tricks".
I filled my nights with alcohol, drugs, parties and self-destruction. It was too early to give up the ship, to say that am gone or am a second rate.
I was boarding a bike to hell. And i couldn't I find happiness?
Why did it seem as though nothing worked out? Why did l feel so worthless? The feeling of utter helplessness and hopelessness, the unrealized dreams, Dead-end streets over whelmed me.
My Soul and Mind Transformation in Prison
One 16th June 2006; I went to church with Pr. Ssenogga Lazalo, they read the gospel of Matthew,
Come unto me, all ye that labour and are heavy laden, and I will give you rest.

Take my yoke upon you, and learn of me; for I am meek and lowly in heart: and ye shall find rest unto your souls.

For my yoke is easy, and my burden is light. (Matt.11:28-30)
And, All that the Father giveth me shall come to me; and him that cometh to me I will in no wise cast out. (John 6:37).
This was my message. It applied to me.
When the pastor started preaching he went to the lost chapter in Luke 15, the lost sheep, the lost coin, the lost son. It was a message of being lost, without direction without lopes, without faith; just as my life was and how it didn't have to be like that.
He talked of how we needed only to listen to the Holy Spirit and ask the Lord Jesus Christ to come into our hearts and He would be there just for us. My walk with the Lord started that day. It changed the course of my life. Suddenly I wanted to know more about this relationship with Jesus of which the pastor spoken. Over the next decade, the word opened up to me in way that I could never have imagined.
Opportunities, experiences and the spiritual illumination did not make my life perfect, but it was a life of transformation, healing and hope, a life of promises where before there had been empty dissolution. I came to understand that I was in prison for purpose.
The men around me became my bothers.
The Lord used prison to draw me into the closest possible fellowship.
I found peace, joy inside the prison.Now the Lord is that Spirit: and where the Spirit of the Lord is, there is liberty.(2Con. 3:17)
It was an exchange deal on my side. In prison I found Jesus Christ and emptied all my inequities. Spiritually my "Doing time" was a life benefit.
Prison life has an End
On 20th Oct. 2016 I ended my contacts with prison I'd to be freed, to go and start a new life.
I am the only one released to fight for the rights of the inmates' children and their families.
I know the score.
I thank all the people home and way who stood with me during the trails. May the good Lord bless you all.
My Sincere Prayers
My prayers go to men and women in the Maxwell federal prison,
Buena Vista correction facility,
Ohio Reformatory for women in marry Ville,
Mc Neil island correctional Center
Massachusetts correctional institutional center,
Iowa correctional Institution for the women,
Men`s colony at Obispo,
Valley state prison for women in chowchilla, California,
Tutwiler correctional facility in Alabama,
Fairbanks correctional center in Alaska,
Victoria women prison in Uganda, plus all men and women in other prisons in the world. You are not alone. The Lord is in control and will lessen your days in there.
Kind regards from Jonathan Mugerwa.
If you have been inspired by this Testimony Please Contact Jonathan Mugerwa the role model using the form on this page.