Buy-Import-Export Premium Grade UGANDA VANILLA BEANS                           Buy-Import-Export Un-Refined Raw SHEA BUTTER 
How to make Vanilla Sugar with Beans from Uganda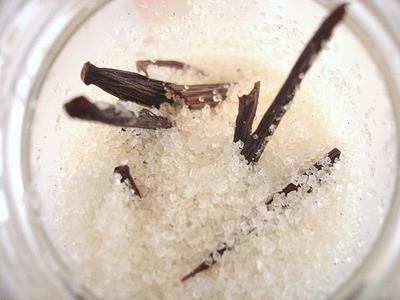 Vanilla Sugar in Bowel
Ingredients for Vanilla Sugar
One (1) vanilla Bean
Two (2) cups of granulated sugar
Click here to
buy Organic Vanilla Beans
in Uganda
Directions for making vanilla sugar
Get your whole vanilla bean and slice it on the side with a sharp knife
Use the back of your knife to scrape out the vanilla seeds/powder into airtight container mixing with the sugar.
Slice the remaining vanilla bean into small pieces
Add the small pieces of vanilla bean into sugar container and seal tightly with lid.
Let your Sugar Vanilla mixture sit for about 4 weeks or longer
Use as regular
Click here to
buy Organic Vanilla Beans
in Uganda
Related Articles
How to make Vanilla Ice Cream
How to make Vanilla Extract
How to make Vanilla Oil
How to Cook Meat
in Uganda
How to cook chicken
in Uganda
Join in and write your own page! It's easy to do. How? Simply click here to return to Plants Guide.
Haven't yet found what you Want...?
If you haven't yet found what you were looking for or you need detailed information about the subject matter on this page

then...

feel free to ask our business travel consultants.