How to grow SWEET PEPPER in Uganda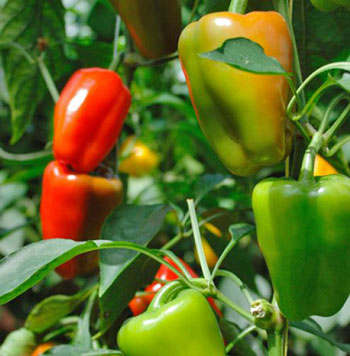 Sweet/Green Pepper in Uganda

Sweet peppers or rather bell peppers are a tender, warm season vegetable.

Locally we know the bell peppers as "green pepper", this is attributed to the fact that the commonest bell pepper we use is of the green color.

Bell peppers however come in a rain bow of colors and vary in flavor.




Common Green Pepper Varieties in Uganda
The common varieties on the market include; Ace, Banana supreme, Bell boy, Sweet red cherry, Lilac Bell, and California wonder - this gives the green blocky shaped fruit common to us.
Soil requirements for growing Sweet Pepper
Many soil textures are used for bell pepper production, the plants do well on organic, rich, well drained sandy soil for best growth.
How to Propagate Green Pepper in your garden
Start up your sweet pepper plants using disease free seeds from trusted input suppliers.
These should be able to emerge into seedlings in 6-10 days from sowing.
Contact us
here to buy fresh Green Pepper and Green Pepper seeds
in Uganda
How to Plant Green Pepper in Uganda
Before planting, incorporate up to two handfuls of well composted manure like dung into each hole meant for planting pepper transplants.
Transplant you peppers and place them 18 inches apart in a row, and 18-24 inches within the rows.
Cover the transplants with soil and then water gently.
Spray the seedlings with a fungicide and pesticide immediately to keep off pests and fungal diseases.
Weed the field at an interval of at least 2 weeks to prevent competition with weeds.
Mulching the pepper is another way of minimizing the rate of weed growth.
Contact us
here to buy fresh Green Pepper and Green Pepper seeds
in Uganda
How best to Harvest Green Pepper in Africa
The variety of the pepper plant and the stage of the ripeness determine the flavor and color of each pepper.
Most bell peppers mature in 60 to 90 days after planting.
Pepper fruits require 35-45 days to mature from flowering to full color (green, red, yellow, or orange) depending on temperature and variety.
To harvest make a cut above the cap of the pepper, leaving a portion on the stem still attached. Fruits should be firm plump, and smooth skinned for the best flavor and quality.
Contact us
here to buy fresh Sweet Pepper and Sweet Pepper seeds
in Uganda
About the Green Pepper Market in Uganda
Sweet peppers do have ready markets in hotels, restaurants, vegetable markets and even road side stall.
Chain stores like supermarkets are other out lets which do take up sweet peppers.
Contact us
here to buy fresh Green Pepper and Green Pepper seeds
in Uganda
Quick Tips for planting Sweet Pepper in Uganda


Till up land meant for planting and make 2cm deep holes in a row.


Scatter in animal manure in each hole and then mix.


Transplant your seedlings in to the holes, and then gently cover with soil.


Water and spray with a mixture of fungicide and pesticide.


Weed the field at an interval of 2 weeks.


A spraying interval of 2 weeks must also be adopted up to 3 weeks before harvesting.


At 60 to 90 days after planting you can go ahead and harvest your first fruits.


Contact us
here to buy fresh Green Pepper and Green Pepper seeds
in Uganda